| | |
| --- | --- |
| Valentine's Day Crush: Tigers top Hokies | |
---
| | |
| --- | --- |
| Saturday, February 14, 2015, 2:07 PM | |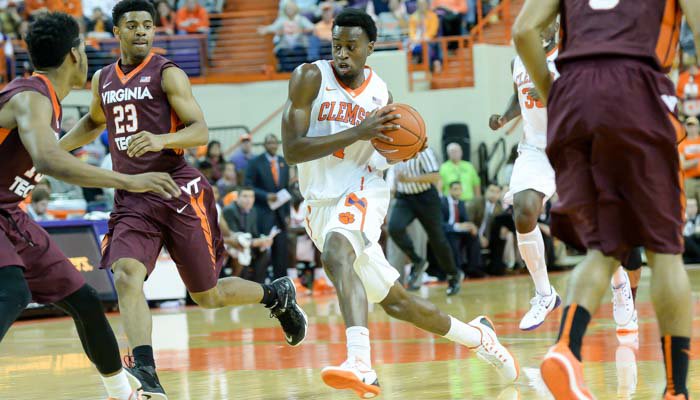 CLEMSON – Clemson's basketball heart belongs to Valentine's Day.
Clemson ended a two-game losing streak after jumping out to leads of 10-0, 16-4 and 37-15 in a torrid first half and held on for a 75-54 victory over Virginia Tech in a Valentine's Day game at Littlejohn Coliseum Saturday afternoon.
The Tigers are now 17-4 at home on Feb. 14, the winningest home date on the calendar by three games (Jan. 18). Over the years, Clemson has compiled 24 wins on Valentine's Day, making it the winningest date on the calendar.
The 75 points are a season-high in ACC play for the Tigers. Jordan Roper

Jordan Roper
Jr. Guard
#20 6-0, 165
Columbia, SC
View Full Profile led the Tigers with 21 points, while Jaron Blossomgame

Jaron Blossomgame
RS So. Forward
#5 6-7, 215
Alpharetta, GA
View Full Profile added 14. The Tigers hit a season-high 11 3-pointers (11-29) and outrebounded Tech 38-28. The Tigers have out-rebounded five ACC teams by a double-digit margin, most since the 1998-99 season (7).
Clemson improved to 15-10 overall, 7-6 in the ACC. Virginia Tech fell to 10-15 overall and 2-10 in the ACC. The Tigers have now won four straight at home over the Hokies, all under head coach Brad Brownell

Brad Brownell
Head Coach
View Full Profile .
"A really good performance from our team. I thought our guys were locked in after a few good days of practice," Brownell said after the game. "I'm really proud of the way our guys in the second half locked in, up 19, they really stayed locked in and I challenged them to come out in the second half and play well. That's really good to see obviously when you shoot the ball and make 11 threes it's easier for you – you get to get your defense, you're scoring and the crowd's energized. We played well today."
Jordan Roper scored eight of the game's first 10 points as the Tigers opened up a 10-0 lead just three minutes into the game. The hot-shooting Tigers eventually hit five of their first five 3-pointers – opening a 16-2 lead just two minutes later – and the lead went to 17 at 21-4 after a layup by Sidy Djitte

Sidy Djitte
So. Center
#50 6-10, 240
Fayetteville, NC
View Full Profile with just under 13 minutes to play in the first half.
"I thought they were really good. Obviously they started both halves in great fashion," Virginia Tech Head Coach Buzz Williams said. "The moxie they played with, their confidence level, I thought they were dominating form start to finish. I don't look at Coach (Brownell) as a defensive coach. I don't get into any of that. I think that's just people that write blogs and things like that. I think he's done an incredible job here. I have the utmost respect for him, always have. And I thought that from start to finish today, they absolutely handed it to us."
The Hokies eventually found the range from beyond the arc - Malik Muller hit two to make at 27-12 – but a 3-pointer by Donte Grantham

Donte Grantham
Fr. Forward
#15 6-8, 205
Martinsburg, WV
View Full Profile pushed the lead to 30-12 Tigers. A free throw by Rod Hall

Rod Hall
Sr. Guard
#12 6-1, 205
Augusta, GA
View Full Profile gave the Tigers their largest lead of the half – 22 points – at 37-15 with just under six minutes to play. Both teams got a little sloppy at that point and Clemson held a 41-22 lead at intermission.
The Tigers quickly put the game out of reach in the second half, and they did it with the three-pointer yet again. Jaron Blossomgame started the half with a jumper and followed that with a 3-pointer for a 46-22 lead. Ahmed Hill hit a layup to get the Hokies on the board, but Roper hit a quick 3-pointer for a 49-24 lead.
On the ensuing possession, Nnoko passed out of the lane to a wide-open Hall for a trey and a 52-24 advantage, Grantham quickly followed that with a trey of his own for a 55-24 lead that brought the crowd to its feet and Roper launched a 3-pointer from the top of the key for a 58-24 lead just four minutes into the half.
The game then get sloppy from a Clemson standpoint, and what had been a commanding lead began to slip away as the Hokies ran off a 13-2 run over 5:09 to make it 66-43 with just 6:35 to play.
Brownell said he was pleased with how his team responded to the big lead.
"We haven't had that," Brownell said. "That was an interesting feeling. But that's part of it. There was still a lot of time left and give Buzz [Williams] and his kids a lot of credit; he kept them competing. He won't let those guys give in and they don't. They keep playing and they played better at the end and started making shots. But it was good for us to have a game like this where you make shots and it's good for your confidence and we hope it continues on Monday."
The Tigers have a quick turnaround, playing at Georgia Tech Monday night at 7 p.m. That is followed by a four-day break before playing at Duke next Saturday at 4 p.m. The next home game isn't until February 28th against Georgia Tech.
Team Notes
• The Tigers won their 24th game in history on Valentine's Day, making it the winningest calendar date in program history. It is also the winningest home date, as Clemson has compiled 17 victories on Feb. 14 against only four losses.
• Clemson improved to 5-0 this season in Saturday afternoon ACC games with a 75-54 win over Virginia Tech. Four of the five wins have been in Littlejohn Coliseum.
• The Tigers made a season-high 11 three-point goals Saturday.
• The 11 threes were the most by the Tiger program since posting 12 in the 2012 Old Spice Classic against UTEP.
• The 11 threes were the most in an ACC game since Brad Brownell's first team made 12 vs. North Carolina in the 2011 ACC Tournament semifinals.
• Clemson scored 41 points in the opening half, its most in an ACC half since the 2011-12 team posted 42 in the first frame at Wake Forest.
• Clemson's 75 points were its most in an ACC game this season, and most since the regular season finale in 2013-14 against Pittsburgh (78).
• The 21-point margin of victory was Clemson's highest in an ACC regular season game since the Tigers beat Georgia Tech 87-62 on Jan. 12, 2011.
• Clemson out-rebounded its fifth ACC opponent by a double-digit margin, most since the 1998-99 team did it seven times.
• The Tigers had 16 assists Saturday, their most since the season opener vs. Florida A&M (21).
• Clemson won its seventh ACC game on Feb. 14, four days faster than last season.
Individual Notes
• Jordan Roper scored double figures for the sixth time in the last seven games. The junior scored 11 of Clemson's first 13 points.
• Roper made his first five three-pointers Saturday and finished with a 5-for-6 clip. It is the second time this season he has made five or more in a game.
• Roper became the first Tiger to post multiple 20-point games this season, as he finished with a game-high 21 points.
• Jaron Blossomgame posted 14 points and was an efficient 6-for-8 from the floor. He also hit multiple three-pointers for the first time since the Oakland game on Dec. 22.
• Donte Grantham made 2-for-5 from three and needs just five more to become the first freshman in Clemson history with at least 40 threes, 40 assists, 20 blocks and 20 steals in the same season.
• Rod Hall started his 100th game Saturday, the 10th player in school history to reach the century mark.
• Landry Nnoko blocked three shots and now has 123 for his career. He needs four to pass John "Moose" Campbell for ninth in Clemson history.