| | |
| --- | --- |
| Tigers upend Pack in back-and-forth affair | |
---
| | |
| --- | --- |
| Wednesday, January 28, 2015, 11:30 PM | |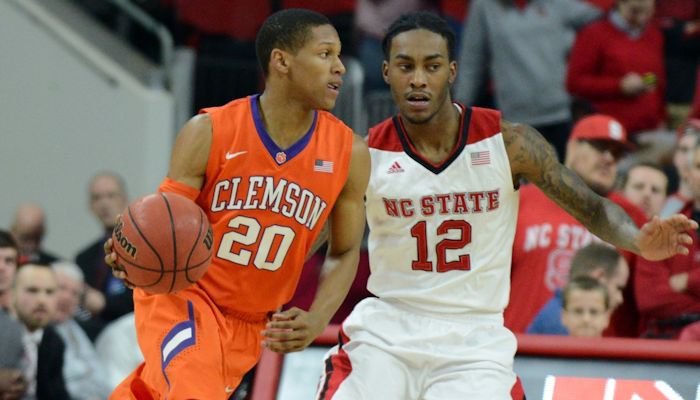 Clemson jumped out to a 23-point first half lead, saw that lead evaporate in a second-half flurry and then hit enough shots and free throws down the stretch in beating N.C. State 68-57 at PNC Arena Wednesday night.
Clemson improves to 12-8 overall and are back at .500 in the ACC at 4-4. N.C. State falls to 13-9. 4-5.
Jordan Roper

Jordan Roper
Jr. Guard
#20 6-0, 165
Columbia, SC
View Full Profile , making his second consecutive start, led the Tigers with 18 points after hitting three 3-pointers in five attempts. Rod Hall

Rod Hall
Sr. Guard
#12 6-1, 205
Augusta, GA
View Full Profile added 11 and Landry Nnoko

Landry Nnoko
Jr. Center
#35 6-10, 255
Montverde, FL
View Full Profile added 10 for the Tigers.
It was a game of runs for both sides – Clemson had runs of 14-0 and 9-0 in the first half but the Wolfpack made it a game with runs of 7-0, 8-0 and 9-0 in the second half.
The Tigers jumped out to a 36-16 lead at intermission but the Wolfpack came out firing on all cylinders in the second half as the officials called 11 fouls on the Tigers in the first nine minutes. The momentum allowed the Pack to open with a 28-11 run in the first 11 minutes of the half, closing to within 47-44 after a dunk by Abdul-Malik Abu with 9:19 left to play.
However, Clemson went on a 6-0 run after a layup with Jaron Blossomgame

Jaron Blossomgame
RS So. Forward
#5 6-7, 215
Alpharetta, GA
View Full Profile , a drive-and-take by Donte Grantham

Donte Grantham
Fr. Forward
#15 6-8, 205
Martinsburg, WV
View Full Profile and a layup by Damarcus Harrison

Damarcus Harrison
Sr. Guard
#21 6-4, 205
Greenwood, SC
View Full Profile that put Clemson up 53-44 with 7:01 to play. Following that flurry, Trevor Lacey hit a long 3-pointer that made it 53-47 with just over six minutes to play.
A three-point play by Blossomgame put the Tigers back up by nine and N.C. State never broke the nine-point barrier the rest of the way.
In the first half, State jumped out to a quick 6-2 lead but the Tigers went on a 14-0 run over the next four minutes to take a 16-6 lead. The lead continued to grow, and State scored just seven points over an 11-minute span in the first half as Clemson's lead grew to 36-13.
State held Clemson scoreless over the final two minutes of the half and scored the last three points for the 36-16 margin at intermission. State was held to 16 points in the first half, shooting 6-of-26 from the field and 3-of-8 fro the free thrown line. The Tigers also turned seven Pack turnovers in the first half into 13 points, and had a 16-4 advantage in fast break points.
Trevor Lacey scored 17 points to lead the Wolfpack, who shot just 29 percent.
Clemson returns to action Saturday when the Tigers host Boston College at noon in Littlejohn Coliseum.
Team Notes
• Clemson won for only the 18th time in the North Carolina Triangle (Duke, North Carolina NC State). It was the fifth time the Tigers won by a double-digit margin.
• The Tiger program has now won five of 11 games in PNC Arena. Clemson previously won in 2000, 2007, 2009 and 2010.
• For the second time in the last four games, Clemson held a 20+ point margin at the half over an ACC opponent. The Tigers led 36-16 on Wednesday and led Syracuse by a 21-point cushion on Jan. 17.
• Clemson shot 50 percent from three-point range Wednesday, 6-of-12. It was Clemson's best percentage in a game this season, given a minimum of 10 attempts.
• The Tigers blocked nine shots, tying their season-high (Robert Morris on Dec. 30).
• Clemson held NC State to 29 percent shooting, by far its lowest field goal percentage of the season. Its previous low was 37.3 percent on two occasions.
• Clemson has held its last two opponents to just two field goals inside the final five minutes (Wake Forest, NC State).
Individual Notes
• Jordan Roper scored double figures a second straight game, a first this season. Roper poured in a season-high 18 points.
• Roper made multiple three-point goals for the first time since the Pittsburgh game on Jan. 10. He finished with three, a season high.
• Rod Hall scored double figures with 11 points, all in the first half. He also had only one turnover in 38 minutes.
• Jaron Blossomgame pulled down 12 rebounds, the ninth time this season the sophomore has posted double figures on the glass.
• Landry Nnoko scored double figures Wednesday, the first time he has done so against an ACC team this season.
• Josh Smith blocked two shots, tying a career high.