| | |
| --- | --- |
| Tigers outlast Jackets for wild Senior Day win | |
---
| | |
| --- | --- |
| Saturday, February 28, 2015, 2:53 PM | |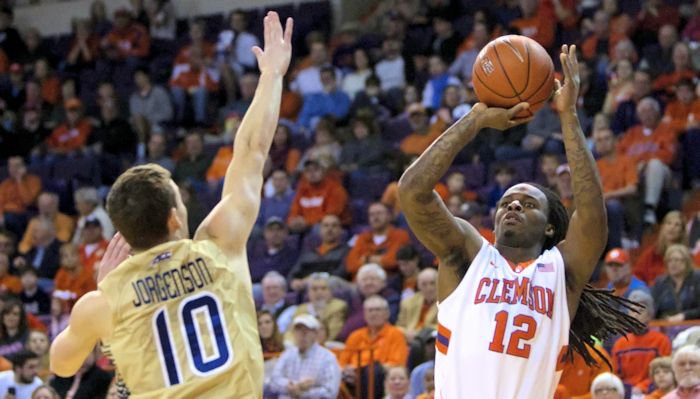 CLEMSON – Crazy things always seem to happen on Senior Day, and Saturday was no exception.
Clemson vaulted to a 30-7 first half lead, saw Georgia Tech tie the game at 60-60 with 39 seconds left in regulation and force overtime but the Tigers managed to take control in overtime in defeating the Jackets 70-63 Saturday afternoon in Littlejohn Coliseum.
Donte Grantham

Donte Grantham
Fr. Forward
#15 6-8, 205
Martinsburg, WV
View Full Profile scored the first points of overtime with a jumper at the 3:26 mark to give Clemson a 62-60 lead. Rod Hall

Rod Hall
Sr. Guard
#12 6-1, 205
Augusta, GA
View Full Profile stole the ball on the other end and promptly hit both free throws to extend Clemson's lead to four points. Hall scored three of Clemson's final five points as the Tigers never looked back in the overtime period.
"Our guys played well today. I hate that it ended in regulation the way it ended," Clemson head coach Brad Brownell, said. "Our first 20 minutes we played very well. The first 12-14 minutes we played great. Unbelievable energy, we made shots, Demarcus made a couple threes early, we were really aggressive. We really played well in the first half, and I talked to our guys about the last time we had a big lead at Virginia Tech and I really got on them at halftime because I could sense that we weren't going to approach the second half the way we needed to. They came out in the second half and built momentum. We played reasonably well in the middle part of the half, down the stretch we didn't play well. Our guys showed good guts today."
Brownell said he was proud of the way the team responded in overtime.
"We needed to regroup. I tried to encourage them," he said. "We played well, we just had a bad spell at the end. I tried to get Donte to wake up, that's the second time this season he's done that. He's too good for that. It frustrates me. I need to watch some film and sit him down. Give credit, he made a big shot in overtime. He was aggressive and snapped out of it. But he got the deer in the headlights look at the end."
Georgia Tech continued it's momentum from the waning minutes of first half and scored the first six points of the second half to make it a 35-22 margin with 18:46 to play in the game before Landry Nnoko

Landry Nnoko
Jr. Center
#35 6-10, 255
Montverde, FL
View Full Profile and Jaron Blossomgame

Jaron Blossomgame
RS So. Forward
#5 6-7, 215
Alpharetta, GA
View Full Profile combined for nine points in four minutes to extend Clemson's lead back to 18.
The Tigers and Yellow Jackets traded baskets over a seven minute period that ended with a 52-36 lead at the 7:05 mark in the second half. Clemson proceeded to go on a three-minute scoring drought that saw Georgia Tech go on a 9-0 run and cut the Tigers lead to just seven points at with 4:42 to play.
Jaron Blossomgame ended the drought with the layup to extend Clemson's lead back to nine with 4:10 to play but the Jackets wouldn't go away as they cut it back to seven on a pair of Marcus Georges-Hunt free throws to cut Clemson's lead 56-49 with 3:51 to play.
Harrison ended a two-minute scoring drought by both teams to extend Clemson's lead to 58-49 with 1:49 to play, however Georgia Tech answered with a three pointer from Josh Heath and a steal and layup by Georges-Hunt to make it a four-point game with 1:18 remaining.
Harrison made two free throws with just over a minute play to give Clemson a 60-54 lead but an offensive rebound and put back by Georges-Hunt and a another steal and lay-in made it just a two point game at 60-58 with 54 seconds to play. The Jackets tied it up with two free throws by Josh Heath with 39 seconds to play.
Hall had a shot at a game-winning shot, but turned the ball over with one second left on the clock to force overtime.
Damarcus Harrison

Damarcus Harrison
Sr. Guard
#21 6-4, 205
Greenwood, SC
View Full Profile started his senior day off with a bang making two three pointers in the first four minutes of the game as Clemson jumped out to an early 8-0 lead.
After the quick start, Clemson went on an 18-4 run over the next nine minutes giving the Tigers a 26-4 lead over the Yellow Jackets
The Tigers played smothering defense for the first 14 minutes of play as Georgia Tech didn't make it's first field goal until the 6:04 mark in the first half. The Yellow Jackets went on a 10-4 run to cut Clemson's lead to 33-13 before Rod Hall ended the run with a three-pointer from the top of the key.
Tech's Corey Hayward scored the final points of the half for the Jackets and Harrison hit two-of-three free throws with just .6 seconds on the clock to give Clemson a 35-16 advantage at halftime.
Clemson shot 50-percent from the field and held Georgia Tech to just 17-percent - 4-of-24 – shooting in the first half. Harrison led all scorers with 11 points in the opening stanza. The 16 first half points were Tech's lowest point total this season since scoring just 12 against Virginia in January.
Team Notes
• Clemson won its eighth ACC game of the season, the fourth time in five seasons under Brad Brownell the Tigers have won at least eight conference games.
• The win was Clemson's 10th straight at home over Georgia Tech, extending the school-record streak.
• Clemson has won 11 of the past 12 games over the Yellow Jackets, including twice in overtime.
• The Tigers are 7-3 in Brownell's five seasons in overtime games.
• The Tigers won 70-63 in overtime, making the Tigers 2-0 in extra time this season. Clemson previously beat a top-25 Arkansas team in overtime in December.
• Clemson allowed just four field goals in the opening half, its lowest total of the season in any half.
• Clemson shot a season-high 51 percent from the field (22-of-43).
• The Tigers made 81.5 percent from the free throw line (22-of-27), their top figure of the sason with a minimum of 20 attempts.
Individual Notes
• Jaron Blossomgame reached double figures for a team-leading 23rd time this season.
• Blossomgame finished with 19 points, his highest total in an ACC game.
• Blossomgame led the Tigers with nine rebounds, the 18th time this season he has led or tied for the team lead.
• Rod Hall and Damarcus Harrison both scored double figures on Senior Day, with 15 points apiece.
• Harrison made a career-high nine free throws in 11 attempts, also a career high.
• Hall's 15 points were his high total since the Syracuse game on Jan. 17.
• Hall surpassed 3,600 career minutes played Saturday, 10th in school history.
• Landry Nnoko blocked five shots Saturday, one off his personal best. He now has 134 in his career, ninth-most in school history.
• Austin Ajukwa matched his career high with three steals.