---
| | |
| --- | --- |
| Saturday, February 21, 2015, 6:16 PM | |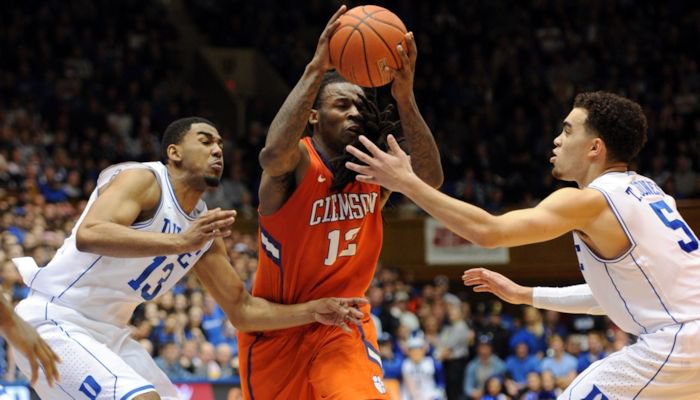 DURHAM, NC – Clemson faced a Duke team playing without its leading scorer as Jahlil Okafor missed Saturday's ACC contest with a sprained ankle. It didn't matter as Justise Winslow and the Blue Devils still forced an inside presence and defeated Clemson 78-56 at Cameron Indoor Stadium.
Winslow scored 17 first-half points as the Blue Devils scored 30 points in the paint in the first half as the No. 4 Blue Devils improved to 24-3 overall, 11-3 in the ACC. The Tigers dropped to 15-12 overall and 7-8 in the ACC. Clemson hasn't won at Duke since the 1994-95 season, a 75-70 victory by Rick Barnes' first team over a ninth-ranked Blue Devils team.
Quinn Cook led all scorers with 27 points and Winslow added 20 for the Blue Devils. Clemson had just one player in double figures as Jaron Blossomgame

Jaron Blossomgame
RS So. Forward
#5 6-7, 215
Alpharetta, GA
View Full Profile scored 10. The big story for the Tigers was Gabe DeVoe

Gabe DeVoe
Fr. Guard
#10 6-3, 200
Shelby, NC
View Full Profile , who entered Saturday's contest with just four points on the season. DeVoe scored eight as he played 20 minutes.
"Give Mike (Duke head coach Mike Krzyzewski) and the Duke staff and players a lot of credit," Clemson head coach Brad Brownell said. "They played well tonight. Obviously not having Jahlil, they overcame that. We got off to decent start in both halves but our guards didn't play particularly well and the soft press bother us. We acted like we hadn't seen that before. That threw us out of rhythm. We acted like we played scared and we didn't compete like I thought we would."
Brownell said he didn't know that Okafor wouldn't play until 20 minutes before the opening tip, but said Clemson's own lack of execution led to the loss.
"We practiced for two days how we would guard with him (Okafor), and it's vastly different with a smaller team," Brownell said. "We knew it could happen. But our inability to score and how passive we were on offense was really what led to our defense not being any good. We let our offense and frustration and poor play affect our defense we didn't t fight as hard as we could. We would hit patches of adversity and some of our decision-making and shot selection were poor."
Brownell then found time to praise the play of DeVoe and said the freshman had earned more playing time.
"He has just practiced really well the last month," Brownell said. "He is more confident and he has made more shots. I thought he showed good poise. He played 20 minutes today and I thought he played pretty well. I thought he outplayed most of the other guards on the team."
Clemson shot well enough to hang in early, taking a quick 11-6 lead behind a couple of inside plays and a 3-pointer by Damarcus Harrison

Damarcus Harrison
Sr. Guard
#21 6-4, 205
Greenwood, SC
View Full Profile . However, Duke turned up the full court pressure and caused five Tiger turnovers in roaring back on a 14-5 run to take a 20-15 lead with 7:40 remaining in the opening stanza.
Blossomgame hit two free throws to end the slide and trim the Duke advantage to three at 20-17, but Duke's pressure defense once again fueled a run. Tyus Jones threw an alley-oop to Marshall Plumlee that got the crowd going again, and a Justise Winslow steal and layup made it 26-17. Winslow was fouled on the play and hit the free throw for a 27-17 Duke lead, and another Winslow steal and layup gave Duke the 29-17 advantage with just under seven minutes remaining in the half.
Two minutes later, Winslow grabbed an errant Donte Grantham

Donte Grantham
Fr. Forward
#15 6-8, 205
Martinsburg, WV
View Full Profile shot and went coast-to-coast for the score. He was fouled on the play, and the rout was on as the Blue Devils grabbed a 34-20 lead after the foul shot. Cook then hit a layup just before the buzzer and Duke led 42-27 at the break.
Duke started off the second half with a quick basket, but then went on a three-minute scoring drought and Grantham and DeVoe each hit 3-pointers to pull Clemson to within 11 at 48-37, forcing Duke to call a timeout.
A jumper by Harrison at the 13:57 mark pulled the Tigers to within 10 at 51-41, but the Blue Devils got a 3-pointer by crowd favorite Grayson Allen and a free throw from Plumlee to make it 55-41 Duke with 11:41 to play. Clemson was in the midst of another four-minute scoring drought and Duke eventually pushed the lead to 20 at 61-41 with just over ten minutes remaining.
Blossomgame ended the stretch with two free throws, but at that point Clemson couldn't do anything to slow down the Duke attack and the Blue Devils eventually pushed the lead to 30 (76-46) when Jones hit a layup at the five minute mark.
The Tigers have a week off and then return to action next Saturday, hosting Georgia Tech in a noon tipoff. The Yellow Jackets defeated Clemson earlier this week 63-52 in Atlanta. Clemson finishes the regular season with a home game against N.C. State (March 3) and a road contest at Notre Dame (March 7).