| | |
| --- | --- |
| Smith's buzzer beater lifts Tigers over Deacons | |
---
| | |
| --- | --- |
| Saturday, January 24, 2015, 2:18 PM | |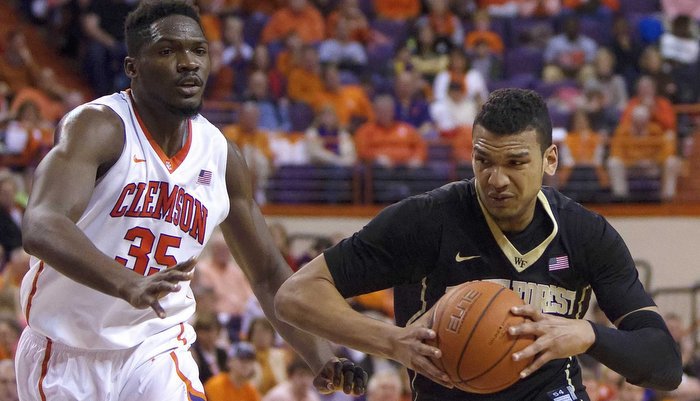 CLEMSON – Rod Hall

Rod Hall
Sr. Guard
#12 6-1, 205
Augusta, GA
View Full Profile 's drive and miss as the final seconds ticked off the clock was tipped in by Josh Smith

Josh Smith
Jr. Forward
#33 6-8, 245
Charlotte, NC
View Full Profile as the horn expired, giving Clemson a 59-57 comeback victory over Wake Forest Saturday afternoon in Littlejohn Coliseum.
"It was certainly an exciting, great win for our team," Clemson coach Brad Brownell said. "I'm really happy for our guys. This was just one of those games when you're climbing the mountain the entire day. We're down 11-2 and my message to our guys was we need some adversity and we need a way to fight through and win a game at home where it hasn't been easy. It seemed like we climbed back. We had a couple bad plays waiting to make a good play, and we'd be back down eight or nine. That's how it was the whole day.
The Demon Deacons led the first 37 minutes of the game and led by as many as 12. Clemson took its first lead of the game on a free throw by Donte Grantham

Donte Grantham
Fr. Forward
#15 6-8, 205
Martinsburg, WV
View Full Profile with 58 seconds left to play, making it 57-56, but missed the second shot. Wake's Devin Thomas hit 1-of-2 free throws to tie the score with 33 seconds to play, and Wake got the rebound, but Codi Miller-McIntyre turned the ball over and Brownell called timeout with 23 seconds to play to set up Hall's final drive.
"Certainly, we wanted Rod (Hall) to drive to the basket and either make the shot or get fouled," Brownell said. "Of course if he felt pressured, he was going to try and find the open man. But that was the play all along, and fortunately it worked out for us."
Smith said he thought the clock would expire before he could grab the rebound and take another shot.
"I was just waiting on the ball to come back down my way so I could grab it and put it back up," Smith said about the winning shot. "I definitely thought Rod was going to be able to get the shot off because that was what the play was. It was up to everybody else to crash the boards and follow from that. I didn't think I had enough time."
Clemson improves to 11-8 overall, 3-4 in Atlantic Coast Conference play. Wake Forest falls to 9-11, 1-6.
Clemson was led by Grantham's 13 points, while Jordan Roper

Jordan Roper
Jr. Guard
#20 6-0, 165
Columbia, SC
View Full Profile added 12. Roper got the start in place of Damarcus Harrison

Damarcus Harrison
Sr. Guard
#21 6-4, 205
Greenwood, SC
View Full Profile . Jaron Blossomgame

Jaron Blossomgame
RS So. Forward
#5 6-7, 215
Alpharetta, GA
View Full Profile added eight points, while Josh Smith added eight rebounds.
The first half was like Groundhog Day for Clemson basketball – an early deficit followed by a furious comeback followed by the opponent pulling away late.
The Tigers fell into an early 13-2 hole, fueled in part by a six minute drought. The offense found its stride at that point, and a free throw by Djitte cut the Demon Deacon lead to just three at 21-18. The Tigers began to struggle at the free throw line, however, hitting just 3-of-7 at one point, and the Demon Deacons were able to pull away for a 33-27 halftime lead.
The Deacs started out the second half on a roll, opening up a 40-28 lead that threatened to send Clemson fans home early. The lead didn't last long – Grantham started a solid stretch by the Tigers with a dunk, and a steal and breakaway dunk by Roper made it 40-32. Twenty seconds later, Grantham hit a 3-pointer from the left key to make it 40-35 and get the Littlejohn crowd back in the game.
The Tigers then had four cracks to get even closer, but missed on all four shots, three of which were from beyond the arc. After the fourth miss, Wake hit a 3-pointer that made it 43-35 with just under 13 minutes left on the game clock.
Clemson once again battled back, a 6-0 run and a 3-pointer by Austin Ajukwa

Austin Ajukwa
So. Guard
#1 6-6, 205
Columbia, SC
View Full Profile made it 48-47 Wake and that was followed by a Blossomgame dunk that tied the game at 49-49 with just over six minutes left to play. However, Wake scored the next four points for a 53-39 lead, and the Tigers were once again forced to make a comeback.
The Tigers did just that, and two free throws by Roper with 1:33 remaining tied the score at 56-56, setting up the final flurry.
"We've put ourselves in some situations where we need to do a better job finishing and a better job closing," Wake Forest coach Danny Manning said. "I don't think (the losses are affecting the team psyche) so. They're not 30-point losses. We're losing games that we're in. We're losing games where we have the lead down the stretch of the game, and we're just not finishing or closing and we have to be better about that."
Clemson plays at N.C. State Wednesday night.