| | |
| --- | --- |
| Roper scores 24 as Tigers swat Eagles | |
---
| | |
| --- | --- |
| Saturday, January 31, 2015, 2:00 PM | |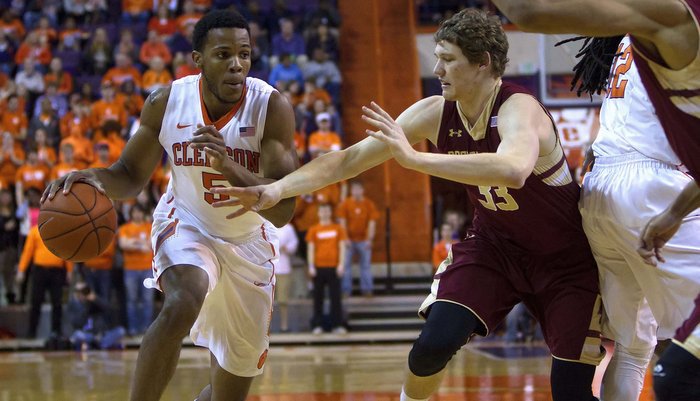 CLEMSON – This time, the Clemson Tigers got off to a hot start and didn't have to sweat out an opponent's furious rally.
The Tigers jumped to a quick double-digit lead over Boston College Saturday and got a career-high 24 points from guard Jordan Roper

Jordan Roper
Jr. Guard
#20 6-0, 165
Columbia, SC
View Full Profile in defeating Boston College 64-49 Saturday afternoon in Littlejohn Coliseum.
Roper hit a career-high six three-pointers to lead the Tigers, who improve to 13-8 overall and 5-4 in the ACC. Boston College falls to 9-11, 1-7. Roper finished by hitting 8-of-11 shots from the field, and Jaron Blossomgame

Jaron Blossomgame
RS So. Forward
#5 6-7, 215
Alpharetta, GA
View Full Profile added 16 points.
The Tigers now hold a 12-7 edge in the series with the Eagles.
"This was a good, solid performance by our team today. I thought our defense was really good," head coach Brad Brownell said. "[Olivier] Hanlan ended up with 15 points, but it wasn't easy for him. They run so many things for him that you're guarding him on every possession and if you make a mistake, he's going to make a play. Not only did he only have 15 [points] but he only had five assists. Rod [Hall] was fantastic defensively, fighting him off of double screens and handoffs, etc.
"[Hanlan] is in such an "attack" mode, it makes him such a good player, but Rod [Hall] was so good on defense. This is one of those games where we got a little bit of scoring from everybody, and certainly Jordan Roper was a guy that was rolling today, making six threes. He played fantastic. I thought we had timely baskets by Landry [Nnoko], who had another good game without fouling. We had good balance. Boston College did a lot of different things on defense to keep us off balance, but I thought we handled it well. It's good to have a little momentum going our way."
Roper scored Clemson's first 11 points – on 3-4 shooting from beyond the arc – as the Tigers jumped out to an 11-3 lead. The lead continued to grow and Boston College was forced to call a timeout with just under 12 minutes to play in the half and trailing 19-8.
Two minutes later, Donte Grantham

Donte Grantham
Fr. Forward
#15 6-8, 205
Martinsburg, WV
View Full Profile threaded a pass inside that Landry Nnoko

Landry Nnoko
Jr. Center
#35 6-10, 255
Montverde, FL
View Full Profile flushed for a thunderous dunk, and the lead was 21-8. Three minutes later, Austin Ajukwa

Austin Ajukwa
So. Guard
#1 6-6, 205
Columbia, SC
View Full Profile completed a nifty slide move and jumper just outside the lane for a 25-10 lead, and the Eagles called a timeout with 6:17 to play before intermission to try and halt Clemson's 10-2 run.
Boston College closed out the half on a 4-0 run as Clemson's offense went cold and the Tigers held a 27-16 lead at intermission. Clemson missed its last seven shots of the half and endured a five minute scoring drought to end the half.
The Eagles started the second half the way they ended the first and trimmed the Clemson lead to single digits at 28-19, but a Roper 3-pointer and a Nnoko three-point play barely four minutes into the half extended the lead back to 16 at 38-22.
A 3-pointer by Grantham and an offensive rebound and dunk by Blossomgame gave the Tigers an 11-0 run that covered just two minutes, and the Tigers led 43-22 with 14:09 to play. The Tigers then got back-to-back 3-pointers from Jordan Roper – who had a new career-high in points (24) and made 3-pointers (six) as Clemson extended the advantage to 51-29.
The Eagles never got within 15 points the rest of the way as the Tigers emptied the bench and cruised to the win.
Brownell said he was pleased that his team has rebounded from a 1-3 start in league play to reach 5-4.
"It feels good to be over-500 right now, but this league never stops," he said. "You have to take the ACC week-by-week and see what's ahead of us and how we need to prepare. I'm pleased with how our guys have responded to the 1-3 start in ACC play. There were some games we lost in that stretch where we still showed signs of good basketball. Some of the teams in this league are just so good that if they get going, it can be tough. We've played pretty good basketball at different times. We've had to find different ways to win, like last Saturday against Wake Forest, and we've also had good offensive outbursts, like against Syracuse and NC State. Today was just a solid performance where you build a lead and keep them at bay and take care of your business. There's still a long way to go. I think we'll have a few more road games on this stretch than home ones, but I'm very pleased with where we are and how this team has improved over the course of the season."
He said he has also been pleased with the play of Roper, who has scored 42 points in the last two games.
"I think guys are more fragile than people realize. They're under a pretty strong microscope," Brownell said. "They know when they're not playing well, then they get asked about it, and social media can be harsh. When you're not playing well, you lose a lot of confidence. Sometimes, it's just finding a way to get that back. [Jordan] Roper had a long stretch where he just didn't seem right. Jordan [Roper], Coach [Richie] Riley and I sat down and had a conversation about a month ago, and Jordan has responded well from that. He's focused on talking a little more, competing a little more, throwing himself into the team and has let his good play come when it comes. He wasn't handling some of his failure very well, and he wasn't competing the way he needed to compete. He's changed a couple of things, has a little burst to his step and when he's playing like that, it changes us."
Clemson plays at Florida St. next Wednesday in a 9 pm tipoff, and continue on the road with a 6:30 p.m. tip at Miami next Sunday. The next home game is February 10th when Clemson hosts Notre Dame.