| | |
| --- | --- |
| Mistakes doom Tigers in home loss to Winthrop | |
---
| | |
| --- | --- |
| Monday, November 17, 2014, 9:32 PM | |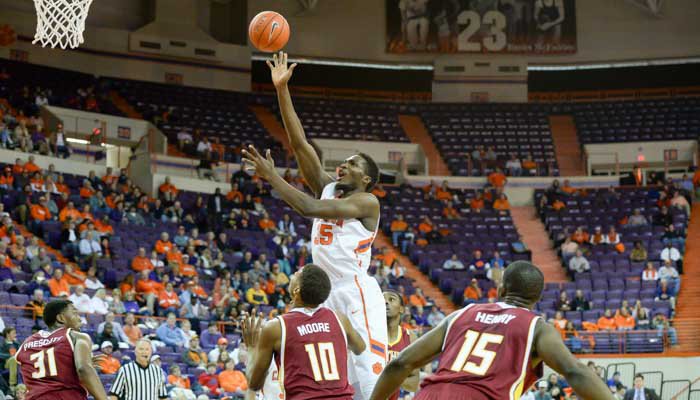 CLEMSON – Turnovers and free throws can cost you any game, even in November.
Last year's Clemson basketball team did the a lot of the little things right but none of those seemed to go the Tigers way as Winthrop held on for a 77-74 win in Littlejohn Coliseum Monday night.
Brad Brownell

Brad Brownell
Head Coach
View Full Profile 's team turned the ball over 16 times and made just 24-of-39 free throws – a 59 percent clip – while Winthrop only had six turnovers and shot 80-percent from the charity stripe. The Tigers also hit just 3-of-13 from 3-point range, while Winthrop was 9-of-23 from long range.
Winthrop was called for 31 fouls, while the Tigers were called for 23.
Landry Nnoko

Landry Nnoko
Jr. Center
#35 6-10, 255
Montverde, FL
View Full Profile scored a career-high 19 points to lead four Tigers in double figures - Donte Granthan added 13, Jaron Blossomgame

Jaron Blossomgame
RS So. Forward
#5 6-7, 215
Alpharetta, GA
View Full Profile had 12 and Rod Hall

Rod Hall
Sr. Guard
#12 6-1, 205
Augusta, GA
View Full Profile finished with 11 points. Keon Moore led Winthrop with 18 points.
Clemson head coach Brad Brownell said Winthrop did the little things that led to the win.
"First of all, give Winthrop a lot of credit. I thought their kids played really well, and they made some big shots and big plays late," Brownell said. "They made free throws down the stretch, and came into our place and only turned it over six times. I told our team they were a good offensive team – they have good guard play and stretch you out. It's a tough matchup and can your guys do enough to offset that matchup. We struggled with making free throws and the careless turnovers."
He then mentioned that it seemed like the Tigers were looking for K.J. McDaniels to step up and make a play.
"I thought offensively the game was decent but we turned the ball over – wasted possessions. I thought we looked like a team that was nervous," Brownell said. "We were kind of looking for a guy out there and he wasn't there – he was in Philadelphia. We have to find a guy that wants to make a play down the stretch."
He said the turnovers were the most frustrating part of the night.
"Jaron and Landry had 10 between them and then the starting point guard had four – he dribbled it off his foot and it went out of bounds to the other team," he said. "I thought guys were nervous out there at times. Some weird kind of plays that led to all of that. Clearly in a possession game they had 12 more possessions than we did. What happens is it takes the air out of the building. What you have to do when you're Clemson is make free throws. At the end of the day we scored 74 points, and most of the time that is enough. But we gave up almost 80 in our own gym and in the second half we didn't guard them very well and that's not good."
The second half began with both teams trading baskets, several turnovers and a lot of whistles. Neither team could gain more than a three-point lead during the first 10 minutes of the half.
Winthrop went on a 10-3 run over the next four minutes that began with a Johnson three pointer and ended with a Keon Moore trey, giving the Eagles a 63-56 advantage over the Tigers with 6:02 to play.
Grantham responded with a three pointer and made one of two free throws on the Tigers next possession to make it a 63-60 margin but Johnson made his second three of the night to give the Eagles a 66-60 lead with 3:37 remaining in the game.
Nnoko and Moore traded layups to give Winthrop a 68-62 lead but Clemson made it's next five free throws along with a Jaron Blossomgame jumper to close the gap to 70-69 with just over a minute remaining.
Blossomgame was called for an intentional foul but Jarad Scott only managed one free throw as Winthrop held on to a 71-69 lead with 32 seconds to play. Johnson made both free throws after being fouled by Rod Hall on the inbounds play to give the Eagles a 73-69 lead but Hall answered with a three to make it a 73-72 game with 20 seconds remaining.
Moore made two more free throws to give Winthrop a 75-72 lead. Hall was fouled on the ensuing possession but could only manage one of two free throw attempts for a 75-73 margin. A tipped ball on the thrown in by Clemson essentially ended the game with only two seconds to play.
The first half was frantic and even a little erratic at times with both teams racing up and down the court. Clemson got on the board first with a three from freshman Donte Grantham

Donte Grantham
Fr. Forward
#15 6-8, 205
Martinsburg, WV
View Full Profile and jumped out to a quick 5-0 lead before Winthrop scored its first basket.
Winthrop's Andre Smith got the Eagles on the board with a trey and from there the teams traded baskets and the lead several times over the next three minutes. The Eagles took a 15-11 lead with 14:13 to play in the first half on a Keon Johnson basket and free throw but Clemson responded with a 6-0 run of it's own, capped off by a coast-to-coast Grantham dunk with just over 12 minutes to play in the half.
The final seven minutes saw both teams trade baskets and free throws as the teams were called for a combined 26 fouls, but the half ended with Winthrop scoring the final five points on a pair of Andre Smith free throws and a three at the buzzer by Derrick Henry for a 36-34 Clemson lead at intermission.
The Tigers return to action on Friday afternoon at 1:30 p.m. when they travel to the U.S. Virgin Islands to take on Gardner-Webb in the opening round of the Paradise Jam.
Team Notes
• Clemson dropped Monday's contest to Winthrop, the Eagles' second win in series history against the Tigers and first since 2000.
• The Tigers outrebounded Winthrop 46-29, Clemson's largest rebound advantage since a +19 figure against Coastal Carolina on Nov. 29, 2013.
• Clemson blocked eight shots Monday, giving the Tigers 14 through two games. The Tigers led the league in the statistical category last season.
Individual Notes
• Landry Nnoko scored a career-high the second straight game. The junior center posted 19 points and added nine rebounds and five blocks, one off his career-high.
• Nnoko's six made field goals and seven free throws were also career highs.
• Nnoko has now blocked at least one shot in 11 consecutive games dating to last season.
• Jaron Blossomgame posted double figures for the second straight game, posting his high total since the Pittsburgh game on March 8, 2014.
• Donte Grantham was in double digits for a second time in two career games, with a season-high 13 points in just 24 minutes.
• Rod Hall played his 100th career game Monday, and reached double figures for the first time this season.
• Jordan Roper blocked two shots against Winthrop, after entering the contest with two in his career in 67 games.