| | |
| --- | --- |
| Late run dooms Tigers in ACC/Big Ten Challenge loss | |
---
| | |
| --- | --- |
| Monday, December 1, 2014, 9:39 PM | |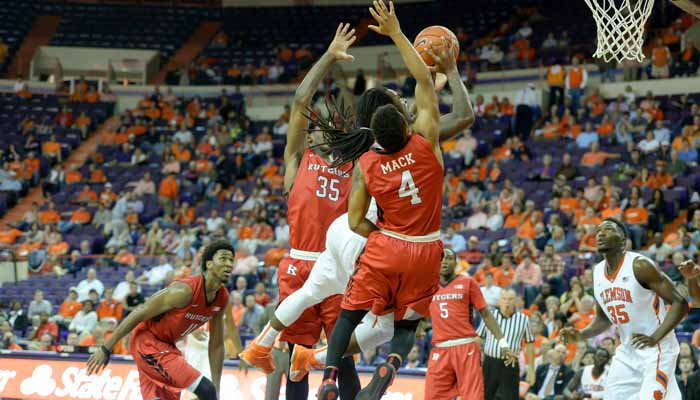 CLEMSON – Another scoring drought doomed the Tigers Monday night.
Rutgers erased a late seven point Clemson lead and went on a 16-2 run in escaping Littlejohn Coliseum with a 69-64 victory as part of the ACC/Big Ten Challenge. The Tigers are now 9-6 in the ACC/Big Ten Challenge.
The loss dropped the Tigers to 4-3 on the young season, while Rutgers improved to 4-3. Damarcus Harrison

Damarcus Harrison
Sr. Guard
#21 6-4, 205
Greenwood, SC
View Full Profile led the Tigers with 15 points, while Jaron Blossomgame

Jaron Blossomgame
RS So. Forward
#5 6-7, 215
Alpharetta, GA
View Full Profile added 10. Junior Etou scored 20 points and Myles Mack added 12 points and eight assists to lead Rutgers.
The Tigers shot 42.9% (24-56), hit 8-of-11 free throws and outrebounded the Scarlet Knights 39-30. However, the Tigers were whistled for 18 fouls (Rutgers just 10) and Rutgers his 12-of-16 from the charity stripe. Clemson had 11 turnovers, while Rutgers committed just three.
The teams were tied at 33-33 at the break, and the teams traded baskets throughout the first nine minutes of the second half. Clemson led 47-46 at the 11:24 mark of the second half, and then went on an 8-1 run over the next four minutes to take its biggest lead of the game at 55-48.
At that point, the Scarlet Knights went on the 16-2 run that lasted until Rod Hall

Rod Hall
Sr. Guard
#12 6-1, 205
Augusta, GA
View Full Profile hit a layup with just 24 seconds left on the game clock. During the run, the Tigers missed eight shots.
"It was a disappointing loss. Give Rutgers credit, I thought their kids played really well," head coach Brad Brownell

Brad Brownell
Head Coach
View Full Profile said. "They executed their offense against us about as well as anybody has in a long time. It's that Princeton-type stuff and it's hard to guard. I thought we regrouped at the end of the first half and the first part of the second half, and then the game just got away from us. We missed some plays and some shots around the rim. And then they had 16 assists, three turnovers and seven 3-pointers."
Brownell said the team's defense has been disappointing in the early part of the season.
"I do think our defense has struggled, especially in the second half when we are away from our bench," he said. "For whatever reason, I think we lack leadership. Both Damarcus and Rod (Hall) are both very quiet guys, and I don't think that's a good thing in college basketball. That is problematic. That is showing when we are away from our bench, and we need guys talking and doing things together. But yes, our second half defense has been poor all year and we need to find a way to make it better."
The first half saw Rutgers hit a couple of early 3-pointers and sprint out to an 11-5 lead. The Tigers stayed within striking distance for most of the next ten minutes and then took their first lead at 25-25 on a dunk by Landry Nnoko

Landry Nnoko
Jr. Center
#35 6-10, 255
Montverde, FL
View Full Profile at the 4:25 mark of the half.
A 3-pointer by Patrick Rooks

Patrick Rooks
RS Fr. Guard
#0 6-2, 190
Charlotte, NC
View Full Profile gave the Tigers their biggest lead of the half at 29-25 just a minute later, but Rutgers tied the game at 33-33 at the 1:37 mark. Neither team was able to dent the scoreboard the rest of the way, and teams headed into intermission knotted at 33-33.
"I don't want to talk about K.J. [McDaniels] all year, but we're finding out more and more what he meant to our team," Brownell said.
Next up for the Tigers is a three-game stretch against SEC squads, starting with a ranked Arkansas team Sunday at 5 p.m. in Littlejohn. Following that is a home game against Auburn and a road game just before Christmas at South Carolina.
"I am going to watch film and will start analyzing all the games we have played," Brownell said. "I am not happy with defense to date. We have to start with that. Our defense has to be better. And then it seems like we have four turnovers a game that are just critical, senseless turnovers."