| | |
| --- | --- |
| Final shots won't drop, Irish avoid the upset in Littlejohn | |
---
| | |
| --- | --- |
| Tuesday, February 10, 2015, 9:11 PM | |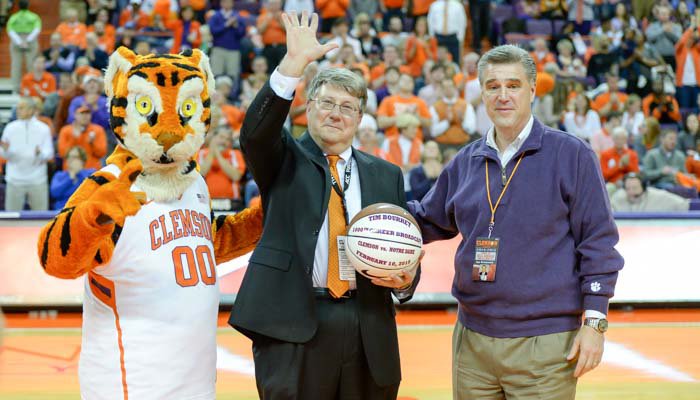 CLEMSON – Clemson missed two shots in the final ten seconds and another scoring drought was costly as No. 10 Notre Dame escaped with a 60-58 win over the Tigers in Littlejohn Coliseum Tuesday night.
Notre Dame missed the front end of a 1-and-1 with 28 seconds to play to set up a final flurry for the Tigers (14-10, 6-6 ACC). Jaron Blossomgame

Jaron Blossomgame
RS So. Forward
#5 6-7, 215
Alpharetta, GA
View Full Profile tried a short hook with just over ten seconds to play, and the ball was knocked around and Rod Hall

Rod Hall
Sr. Guard
#12 6-1, 205
Augusta, GA
View Full Profile was knocked to the floor without a foul call. Damarcus Harrsion's desperation 3-pointer failed to connect and Notre Dame (22-4, 10-3 ACC) avoided the upset.
"We had plays for both man and zone," Clemson head coach Brad Brownell said. "They came man, we wanted to get the ball to 'JB' in the middle of the court and see what he could do … and he got a shot and it didn't go. There was a scrum, boy it looked like our guy got clipped or knocked down, but we didn't get the call."
Blossomgame led Clemson with 17 points and 14 rebounds, while Harrison knocked in 15 points. Hall, Donte Grantham

Donte Grantham
Fr. Forward
#15 6-8, 205
Martinsburg, WV
View Full Profile and Jordan Roper

Jordan Roper
Jr. Guard
#20 6-0, 165
Columbia, SC
View Full Profile were a combined 4-for-24 from the floor. The Tigers were 5-1 this season when Blossomgame had a double-double. The loss also ended a streak of five straight games scoring in double figures for Roper, who finished with two points.
However, Jerian Grant's 22 points made the difference for the Irish. Grant is the son of former Clemson letterman Harvey Grant, nephew of former Tiger great Horace Grant, and brother of 2011 senior Jerai Grant

Jerai Grant
Forward (2007 - 2010)
#45 6-8, 230
Bowie, MD
View Full Profile .
Clemson out-rebounded the Irish 38-26, but nine second half turnovers and a three-minute scoring drought in the last four minutes didn't help Clemson's upset chances. Clemson was in search of its first win at home over a top-10 ranked team since Feb. 4, 2009, when the Tigers beat Duke by a 74-47 score.
"What a great game. Notre Dame showed they have great poise. And (Jerian) Grant, what a great player," Brownell said. "I'm proud of our guys. We executed a great plan and competed defensively. It's hard to hold these guys to 60 points. We gave ourselves chances to win the game down the stretch; we probably just weren't as aggressive down the stretch as we needed to be, not as confident. Sometimes, in the second halves of these games, I think our guys get a little passive. We need a go-to guy sometimes, Jaron can be that sometimes, we kind of struggle sometimes looking for one more guy to help us get over the hump."
The Irish jumped out to a quick 4-0 lead, but the Tigers went on a 11-0 run over the next three minutes, a run that ended with a Landry Nnoko

Landry Nnoko
Jr. Center
#35 6-10, 255
Montverde, FL
View Full Profile layup and 11-4 Clemson lead.
Blossomgame scored 11 points in the first stanza – helping keep the Irish at bay – but Notre Dame kept chipping away and another scoring drought cost the Tigers late in the half. Notre Dame got the ball with 26 remaining in the half, and Pat Connaughton hit a wide open Jerian Grant for a 3-pointer as time expired. The Tigers held a slim 31-29 advantage at intermission.
The Tigers turned it over just two times in the first half, but started the second half with four turnovers in the first minutes and Notre Dame took a 37-35 lead into the first media timeout. The Irish eventually pushed the lead to four and led 46-43 when Blossomgame got the Tigers – and the crowd – back in the game.
Blossomgame hit two foul shots to bring Clemson to within one at 46-45, and then he followed a missed 3-pointer by Harrison with a thunderous rebound dunk for a 47-46 lead with just under ten minutes to play.
Clemson pushed the lead to 56-52 following a 3-point play by Hall with just over four minutes to play, but unforced turnovers and Irish luck enabled Notre Dame to go on an 8-0 run, a run that ended with Grant hitting a jumper as the final seconds ticked off the shot clock. His jumper gave the Irish a 60-56 lead with 41.5 seconds to play, forcing Brownell to call a timeout.
Hall ended a three minute Clemson scoring drought coming out of the timeout, taking the ball down the floor for a layup that made it 60-58 with just over 35 seconds to play. The Irish then ran off seven seconds on the inbounds before a Tiger foul, and Demetrius Jackson missed the front end of a 1-and-1 to give Clemson a final chance with 22.1 to play, setting up the final flurry.
Clemson returns to action Saturday, hosting Virginia Tech in a noon tipoff. They then have another quick turnaround, playing at Georgia Tech next Monday at 7 p.m.