| | |
| --- | --- |
| Comeback falls short as Noles top Tigers | |
---
| | |
| --- | --- |
| Monday, January 19, 2015, 11:26 PM | |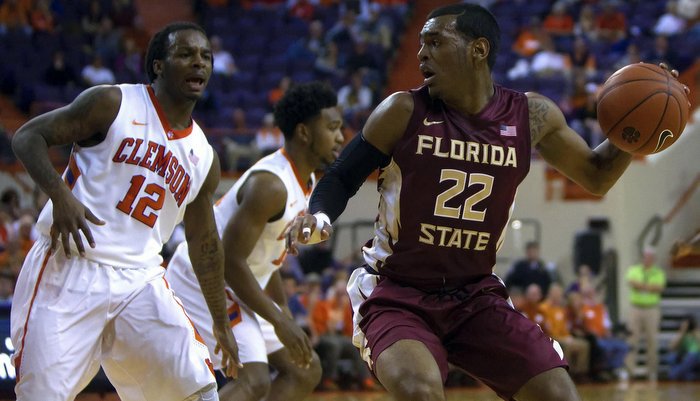 CLEMSON – Just a little short.
A determined comeback fell just a little short Monday night as Florida St. held on to beat Clemson 59-55 in front of a half-full arena. Clemson pulled to within one at 56-55 on a free throw by Rod Hall

Rod Hall
Sr. Guard
#12 6-1, 205
Augusta, GA
View Full Profile with 26 seconds remaining on the clock, but Damarcus Harrison

Damarcus Harrison
Sr. Guard
#21 6-4, 205
Greenwood, SC
View Full Profile missed a 3-pointer with 11 seconds left on the game clock and the Seminoles added a late layup in improving to 10-9 overall, 2-4 in the ACC. Clemson fell to 10-8 overall, 2-4 in the conference.
"Disappointing loss. Never got into a rhythm in the game and FSU got some easy baskets," Clemson coach Brad Brownell said. "Our inability to make free throws was problematic. This is a team you have to drive the ball against. We've shot free throws well in some games, but tonight we had some possessions where we went dry."
The Tigers were led by Rod Hall's 12 points, while Donte Grantham

Donte Grantham
Fr. Forward
#15 6-8, 205
Martinsburg, WV
View Full Profile added 11 points and Jaron Blossomgame

Jaron Blossomgame
RS So. Forward
#5 6-7, 215
Alpharetta, GA
View Full Profile added 10. Florida St. got 17 points from Xavier Rathan-Mayes.
"Our offense got frustrated. We didn't score well all night," Brownell said. "We had some bad shots. Missed some good shots. This was a tough turnaround. We couldn't really practice on Sunday and it hindered us a little bit. We didn't react until much later in the game."
The Tigers struggled from the free throw line shooting just 16-31 (51.6%). The Seminoles shot 22-46 (47.8%) from the field while holding Clemson to 17-50 (34.0%).
Clemson was coming off an exciting win over Syracuse while the 'Noles were recovering from a loss to N.C. State, but it was the Seminoles who came out with energy and it showed with a quick 5-0 lead. A Rod Hall 3-pointer four minutes in tied the score at 5-5.
A 3-pointer by Grantham at the 13:56 mark made it 13-11 in favor of the 'Noles, but the Tigers then went over nine minutes without hitting a shot from the floor and trailed 26-14 at one point as Florida St. threatened to turn the contest into a rout.
Sidy Djitte

Sidy Djitte
So. Center
#50 6-10, 240
Fayetteville, NC
View Full Profile went into the locker room early in the game with an injury after being knocked to the floor, but returned just in time to give Clemson a late boost. Djitte hit a layup to break the drought and scored the last eight points – four from the line and four from the floor –as Clemson trailed 28-22 at intermission.
Grantham scored the first four points of the second half, allowing Clemson to close within two at 28-26, but Florida St. began to dominate in the paint and eventually grew the lead to 12 at 45-33 with just over 12 minutes remaining.
The crowd began to get into the game for the first time all night after a Jordan Roper

Jordan Roper
Jr. Guard
#20 6-0, 165
Columbia, SC
View Full Profile layup made it 47-39, and those points were quickly followed with a tip-in by Jaron Blossomgame and a short jumper by Grantham that made it 47-43 with just over seven minutes to play.
"They changed their strategy late in the game and started attacking the basket," FSU coach Leonard Hamilton said. "That was smart, because the officials started calling it close. They ran into our guys and dribbled a lot and were able to drive off the dribble. We were fortunate they didn't hit their free throws."
Clemson eventually closed to within three at 49-46 after a 3-pointer by Damarcus Harrison at the 5:41 mark, but two Devin Bookert free throws appeared to put the game out of reach for the Noles as they took a 56-46 lead with just 2:39 to play.
The Tigers refused to go away, however, and a Hall free throw and another 3-pointer by Harrison made it 56-50 with 2:32 to play. Over the next minute, however, Blossomgame missed two 3-pointers and Grantham missed another as the Tigers failed to shrink the deficit. It was at that point that the real fun began as the Tigers eventually pulled within one at 56-55.
Clemson returns to action Saturday when they host Wake Forest at noon.