| | |
| --- | --- |
| Clemson works overtime to upset 18th-ranked Arkansas | |
---
| | |
| --- | --- |
| Sunday, December 7, 2014, 7:28 PM | |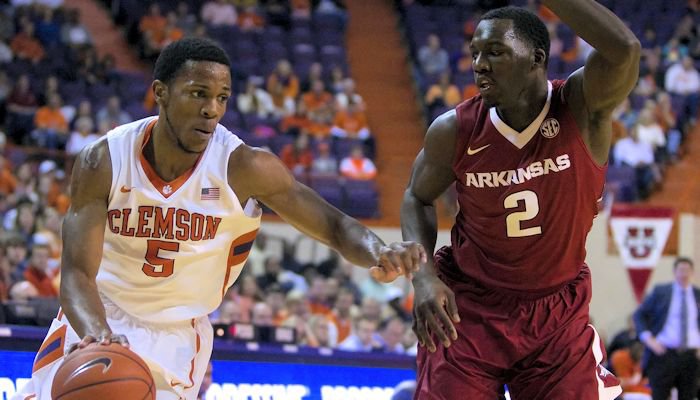 Rod Hall

Rod Hall
Sr. Guard
#12 6-1, 205
Augusta, GA
View Full Profile hit a 3-pointer to open the overtime period, and a layup and dunk by Jaron Blossomgame

Jaron Blossomgame
RS So. Forward
#5 6-7, 215
Alpharetta, GA
View Full Profile gave the Tigers a 66-60 lead to end the 15-3 run, but the Tigers were able to hold off the Razorbacks at the end. Arkansas had a late chance – trailing 68-65 – to tie the game but a missed 3-pointer ended up in Clemson's hands.

The Tigers inbounded the ball and Jaron Blossomgame was fouled with 2.0 seconds remaining. He missed both, but a full-court 3-pointer was missed and the Tigers escaped with the win.

Hall led Clemson with 19 points, while Blossomgame scored 17 points. Donte Grantham

Donte Grantham
Fr. Forward
#15 6-8, 205
Martinsburg, WV
View Full Profile added 14.
Arkansas appeared to put the game away on a layup by Bobby Portis with 1:17 remaining in regulation, a bucket that gave the Razorbacks a 57-51 lead.
However, Hall hit a runner in the lane with 55 seconds left to make it 57-53, and the Tigers turned up the defensive pressure and Hall stole a pass off the inbounds and hit another layup that made it 57-55 with 43 seconds left on the clock.
The Tigers kept up the pressure, and Donte Grantham forced another turnover. He fed the ball to Damarcus Harrison

Damarcus Harrison
Sr. Guard
#21 6-4, 205
Greenwood, SC
View Full Profile , who found Jaron Blossomgame in the lane for the tying shot with nine seconds left. Arkansas couldn't get off a shot, and the teams went to overtime. Clemson had three steals in the last 44 seconds of regulation.
Clemson jumped out to a quick 4-0 lead on Donte Grantham and Jaron Blossomgame put-backs.
Michael Qualls – Arkansas' leading scorer in the first half with eight points – scored the Razorbacks' first points of the day with a three to start what would turn into a
back and forth affair between the Tigers and Razorbacks over the next nine minutes.
With 10:46 to play in the first half, a pair of Jordan Roper

Jordan Roper
Jr. Guard
#20 6-0, 165
Columbia, SC
View Full Profile free throws gave Clemson a 16-14 lead and started a 15-6 Tiger run to give Clemson a 26-20 lead. During the run, Grantham had eight points, including two three pointers.
However, Arknasas wasn't going to go quietly into the locker room as the Qualls scored the half's final five points to make a 29-25 contest at intermission.
Arkansas' Bobby Portis picked up wither Qualls left off, scoring six points in the first two minutes of the second half, while Clemson only managed one field goal – a three pointer by Damarcus Harrison to make it a 32-31 Clemson advantage.
Gratham and Jaron Blossomgame added four points in less than 30 seconds to extend Clemson's lead to five points, but the Tigers could only manage three points – three Blossogame free throws – over the next seven minutes, while Arkansas went on a 14-3 run, taking a 45-39 lead.
A layup by Rod Hall broke the streak and got the Tigers going on the offensive side. Clemson went on a little run over its own outscoring Arkansas 11-7 over a five-minute period to cut Arkansas lead to 52-50.
Arkansas' Alandise Harris and Clemson's Hall traded free throws, making it a 53-51 Arkansas advantage.
Portis scored the next four points for Arkansas, giving the Razorbacks a 57-51 lead with just over two minutes remaining.
The Tigers return to action next Sunday at 4 pm, hosting Auburn.
Team Notes
• Clemson won for just the second time in its history over a non-conference ranked opponent at home, defeating No. 18 Arkansas by a 68-65 score Sunday.
• The win was Clemson's first over a non-conference top-25 team at home since Dec. 17, 1997, when Rick Barnes' squad beat South Carolina 62-57.
• The Tigers improved to 2-0 versus the Southeastern Conference this season; Clemson plays next against Auburn (Dec. 14) and South Carolina (Dec. 19) of the SEC.
• With Sunday's win, Clemson has now beaten all 15 of the current member schools within the SEC.
• Sunday's game was Clemson's sixth decided by five points or less; the Tigers are 3-3 in those six games.
• Clemson won in overtime, its first in extra time since the 2014 ACC Tournament win over Georgia Tech in Greensboro, N.C.
• Arkansas scored just 25 in the opening half, its lowest total for any half this season by seven (32 vs. Iowa State).
• Clemson held the Razorbacks to 65 points, their season-low by 12. Arkansas came into the game averaging 88.1 points per game.
• Sunday's game was Clemson's first win when trailing with 1:00 left this season.
Individual Notes
• Rod Hall posted a season-high 19 points, including 12 in the final three-plus minutes of regulation and the overtime session.
• Hall collected four steals Sunday, tying his career high against The Citadel and Florida State from the 2012-13 season.
• Jaron Blossomgame scored a career-high 17 points Sunday, including two on the game-tying layup with 7.9 seconds to go in regulation.
• Blossomgame surpassed 1,000 career minutes in Sunday's game, playing 36 minutes vs. the Razorbacks.
• Landry Nnoko extended his streak to 17 games with at least one blocked shot; the Tiger junior posted one and needs just three more to reach 100 for his career.
• Nnoko had a career-high four assists against the Razorbacks after entering the game with just two on the season (seven games).
• Donte Grantham produced double figures for the sixth time in eight games to start his career. The freshman finished with a season-high 14 points.