| | |
| --- | --- |
| Clemson wins in battle of Tigers, beating Auburn 72-61 | |
---
| | |
| --- | --- |
| Sunday, December 14, 2014, 6:56 PM | |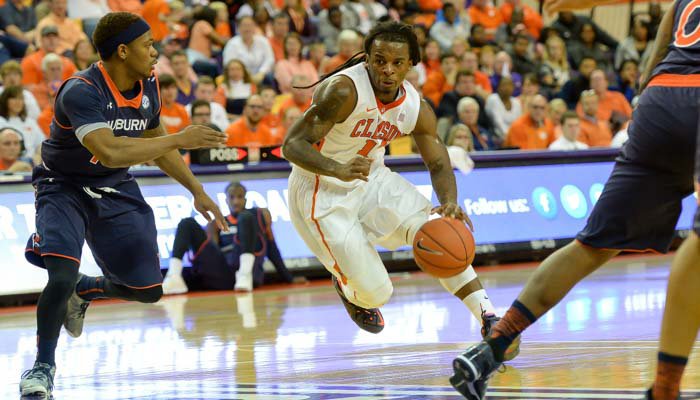 CLEMSON – An early block party set the tone and Rod Hall

Rod Hall
Sr. Guard
#12 6-1, 205
Augusta, GA
View Full Profile tied his career-high with 20 points as Clemson defeated Auburn 72-61 Sunday afternoon in Littlejohn Coliseum.
Clemson (6-3) wound up with seven blocks, many of them during a 15-3 run late in the first half that set the tone for the contest.
It was the second straight victory for Clemson, which moved to a perfect 3-0 over Southeastern Conference opponents after defeating LSU and Arkansas earlier this season.
Demarcus Harrison added 19 points while Jaron Blossomgame

Jaron Blossomgame
RS So. Forward
#5 6-7, 215
Alpharetta, GA
View Full Profile had 12 points and 10 rebounds for Clemson. Cinmeon Bowers had 17 points and 14 rebounds to lead Auburn.
Clemson head coach Brad Brownell called it a good win, despite Hall's eight turnovers and Clemson's lack of offensive success early.
"It was really a tale of two halves. I told our guys late in the first half that offensively we're really struggling, which is what I didn't think it would be," Brownell said. "It wasn't the press at all. It was more just half court silly turnovers. Rod was having a hard time getting going and sometimes the press has an effect that you break it and you don't have numbers and you are struggling to find a rhythm. We did that in the first half but our defense was great. Then in the second half, our defense wasn't nearly as good. Some of that was Nnoko being in foul trouble and not having a presence at the rim to protect. But, our offense was really good – three turnovers, 20 out of 25 free throws. Guys made plays and that's what you have to do to win. Guys made an aggressive effort to get to the paint and draw fouls. This was good win for us heading into a big game."
Auburn scored the first four points of the second half to trim the Clemson lead to 29-26, but Clemson went on an 11-3 run over the next three minutes – getting four points from Josh Smith

Josh Smith
Jr. Forward
#33 6-8, 245
Charlotte, NC
View Full Profile in the process – and Auburn's Bruce Pearl was forced to call a timeout with Clemson leading 40-29 with 16:05 remaining in the game.
Auburn got as close as 64-59 down the stretch, but K.T. Harrell missed a 3-pointer and Hall followed with a driving layup to extend Clemson's lead. The Tigers hit 6-of-8 free throws in the final 1:40 of the game to seal the victory.
Auburn jumped out to the quick 5-0 lead, but a Hall jumper six minutes into the contest gave Clemson its first lead at 6-5. The teams swapped the lead three times over the next seven minutes, but Clemson's defense began to make a difference and Clemson completed a 6-0 run with a Hall layup that provided a 20-14 with five minutes remaining in the first half.
Two minutes later, Hall hit two free throws that extended Clemson's lead to 26-15, but Auburn used two 3-pointers in the final 1:20 of the half to make it 29-23 Clemson at intermission.
Hall, who scored 19 points against Arkansas last week, said he feels confident in his shot right now.
"I feel very confident. Things are going well for me," Hall said. "I'm getting good baskets and we're winning and that's the biggest things. We just have to keep it going. It's the ACC and we have to step our game up. We're just trying not to lose against an an SEC team and play the best we can. The next one is a rivalry game and everybody is going to be really pumped. We're just going to go out and do what we do and get a win."
Clemson plays at South Carolina Friday.
Team Notes
• Clemson improved to 3-0 on the season with Sunday's 72-61 win over Auburn.
• The Tigers last defeated three SEC teams in the same season in 2007-08 (Alabama, Mississippi State, South Carolina).
• Clemson blocked seven shots in the first half Sunday, one off its season high.
• The Tigers made a season-high 26 free throws Sunday and shot 80 percent (20-25) in the second half.
• Clemson won despite a season-high 17 turnovers. The Tigers committed just three in the second half of play.
• Clemson took two charges in Sunday's game after entering with just three taken all season.
Individual Notes
• Rod Hall was in double figures for the sixth time this season and finished with a career-high tying 20 points.
• Hall established a career high with eight field goals Sunday.
• Damarcus Harrison scored 19 points to match his season high, shooting 5-for-8 from the floor and 7-of-8 at the charity stripe. His seven free throws set a career high.
• Donte Grantham blocked four shots Sunday, a career high for the freshman. His previous high was two on multiple occasions.
• Grantham also collected a season-high four steals, one game after Hall set the season mark with four against Arkansas.
• Jaron Blossomgame produced his fourth double-double of the season with 12 points and 10 rebounds.
• He now ranks second among ACC players with five double-figure rebound games.
• Blossomgame made a career-high eight free throws Sunday.
• Josh Smith scored six points to match his season high.
• Landry Nnoko extended his streak to 18 games with at least one blocked shot; he finished with two despite fouling out in only 16 minutes.