| | |
| --- | --- |
| "Batman" almost didn't get off the ground, but helps Tigers to upset at Pitt | |
---
| | |
| --- | --- |
| Sunday, January 11, 2015, 7:01 AM | |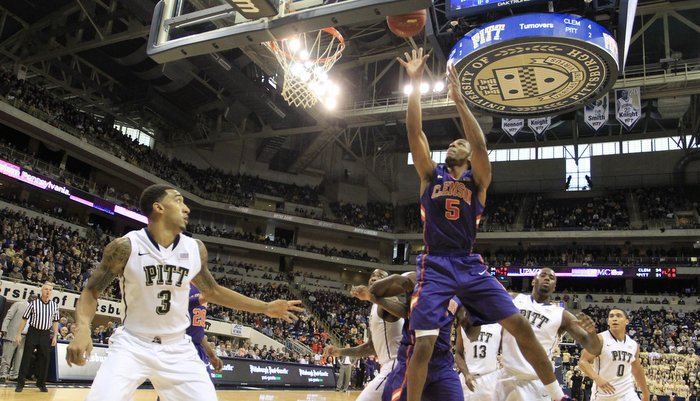 Batman almost didn't get off the ground.
Clemson's flight to Pittsburgh Friday was delayed, the Tigers' initial departure time delayed longer than head coach Brad Brownell

Brad Brownell
Head Coach
View Full Profile wanted. Clemson's basketball team arrived back in Clemson late following the loss at Louisville earlier this week, didn't really practice Thursday and used the delay Friday to get in some extra preparation.
That was put to good use Saturday as the Tigers' zone defense befuddled and confused the Pitt Panthers enough for Clemson to escape the Oakland Zoo with a 71-62 victory, the first conference victory of the season for Brownell's squad.
The victory was also a step in the right direction for sophomore Jaron Blossomgame

Jaron Blossomgame
RS So. Forward
#5 6-7, 215
Alpharetta, GA
View Full Profile , whose 18 points led the Tigers. Blossomgame has now scored in double digits in 12 straight games and 14 out of 15 overall. His stellar play allows point guard Rod Hall

Rod Hall
Sr. Guard
#12 6-1, 205
Augusta, GA
View Full Profile – who has struggled at times this season – to relax and play his game. In other words, Blossomgame allows Hall to slip into the familiar "Robin" role in which he's most comfortable.
Let me explain……..in talking to someone close to the team this week, I was told that Hall found his niche last year playing Robin to K.J. McDaniels

K.J. McDaniels
Guard
# 6-6, 200
Birmingham, AL
View Full Profile

K.J. McDaniels
Jr. Forward
#32 6-6, 200
Birmingham, AL
View Full Profile ' Batman. McDaniels did a lot of the heavy lifting, but Hall was there for a big bucket when needed, the assist when called upon and generally just being the glue that held the team together without worrying about carrying the whole load.
Then Batman left, and many thought that Hall would take on that leadership role. However, he found it difficult to just flip the switch and be "Batman" and the frustration level increased while everybody else was looking for someone to step forward. That someone now appears to be Blossomgame, who is also getting scoring help from Damarcus Harrison

Damarcus Harrison
Sr. Guard
#21 6-4, 205
Greenwood, SC
View Full Profile .
Blossomgame has also hit eight of his last 13 3-point field goal attempts after starting the season 2-for-21, and his performance Saturday allowed Hall to take on his familiar role and he responded with 12 points and four assists. Yes, Hall's assist to turnover ratio hasn't been good this season, but I've been told the team has begun to chart potential assists for him – where he gives a guy an open look but the shot is missed – and the numbers look much better.
Can Batman keep it up? Time will tell, but Saturday's effort and the losing effort at Louisville were a step in the right direction.
Clemson's defense has also looked better the last few games, and switching to the zone has helped. Pitt coach Jamie Dixon said his team didn't do what it needed to do to be effective against the zone.
"They defended better than us. They executed better than us offensively," Dixon said. "We anticipated seeing the zone. We thought they were a man-to-man team, but they've been playing a little bit more zone lately. We prepared for it, and I thought we, at times, attacked it pretty good. We knew they'd sag; we knew they'd keep it in front. I still thought we got pretty good penetration, maybe at different spots than the top of the key, but I thought we got in the lane some but obviously not enough. I thought it was a really compact zone, you could call it. I don't know that we did a good job of penetrating against it. I thought there were times when we did. In the second half, we got some looks and some penetration, but it wasn't enough for 40 minutes."
Brownell said he made the switch from the man-to-man to the zone after a sluggish start.
"We didn't play really well the first four minutes defensively. We tried something different, with screens, and made a mistake on our part because we didn't practice it," Brownell said. "We were just a half-step slow so we went to zone [defense] to see if it would slow the game down, and if it would help us. It did. Then we started playing well offensively. When our guys play well and produce like they did today, it energizes [the starters]."
Another thing that helped the Tigers in the win was rebounding – Clemson owned a 39-22 advantage on the glass.
"The obvious number that stands out is rebounding," Dixon said. "We addressed it. We talked about it. Interestingly enough, it was our big emphasis going into this game – as it always is – but we made an even more impassioned plea and emphasis on the rebounding. To get beat this bad on the glass is even more difficult to realize.I don't know that they're that much bigger. They've got maybe an inch on us at a couple of the spots. We're bigger at some of the spots as well. It shouldn't be [size], certainly not that big of a difference. I think shot selection hurt us too, more so down the stretch, which made the margin 19 with a couple minutes left. But then some shots at the end which weren't needed made the margin even more. I say again: shot selection, getting to the weakside glass – we didn't get it done, and then they beat us to some long ones. They beat us to two free throw rebounds, too, which is not a good indicator."
The Tigers out-rebounded Louisville in the loss, something Brownell was quick to point out.
"It's key. We outrebounded Louisville the other night, 40-37," Brownell said. "Our guys are playing hard and trying to be aggressive. I thought our motion offense was good at times. It had [Pitt] spread out, so when shots do go up, you're not standing right next to the guy to block out. There's more space to attack the glass. Our guys were hungry tonight."
It doesn't get any easier for the team, however. Next up is an 8 pm tipoff in Charlottesville against 3rd-ranked Virginia. The Cavaliers are 13-0 after defeating Notre Dame 62-56 Saturday.