| | |
| --- | --- |
| Sixth inning dooms Tigers in opening day loss | |
---
| | |
| --- | --- |
| Friday, February 14, 2014, 9:03 PM | |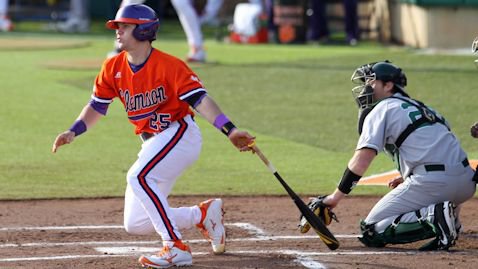 CLEMSON – Opening Day of the 2014 Clemson baseball season didn't exactly go as planned.
The Tigers were in complete control with junior starting pitcher Daniel Gossett

Daniel Gossett
Jr. RH Pitcher
#23 6-0, 180
Lyman, SC
View Full Profile on the mound, but a sixth inning pitching change saw two Tiger pitchers and four runs scored by the Eagles as Eastern Michigan took down Clemson 6-5.
Clemson head coach Jack Leggett

Jack Leggett
Baseball Head Coach
View Full Profile said that despite the sixth inning pitching woes, his team played pretty well for their first outing of the season.
"We let the game slide away from us in the sixth inning," Leggett said after Friday's game. "We actually played pretty well – played good defense, pitched pretty well – except for one inning. We just didn't get it done in the sixth inning and we allowed them to get back in the game and get some confidence, take the lead. We did a nice job battling back. Dunster did a nice job getting a hit for us and we built a couple of innings. We just didn't finish things off. It's a long season to go."
The Tigers opened up a 4-1 lead off the pitching of Gossett who threw 71 pitches, striking out four in five innings of work, but two-thirds of an inning in the sixth was the Tigers' undoing.
Despite being shut down after just five innings, Gossett said that he knew it would be short night, but that he felt good with his performance.
"I felt good, but obviously I still have some things to work out with it being so early in the season," Gossett said after the game. "I'm going to use the outing to build off of because I felt good and find some things to fine tune so that I can go back to work this week and get ready for next week.
"Obviously because I love to compete [I wanted to be out there], but I understand where Pep is coming from. It's the first game of the year and you don't want to hurt anybody and obviously we need to get the guys in the bullpen some work."
Redshirt junior Kevin Pohle

Kevin Pohle
RH Pitcher (2011 - 2014)
#21 6-3, 205
St. Louis, MO
View Full Profile who missed all of last season with a shoulder injury came into pitch for Gossett and gave up back-to-back singles and a fielder's choice to put runners on first and third. Adam Sonabend stepped to the plate and hit a rocket over Tyler Slaton

Tyler Slaton
Jr. Outfielder
#18 5-7, 200
Cumming, GA
View Full Profile 's head in center field, for a 4-3 Clemson lead, and just like that Pohle's day was done.
Junior righty Kyle Schnell

Kyle Schnell
Jr. RH Pitcher
#40 6-0, 165
Alpharetta, GA
View Full Profile entered the game with Sonabend on second and one out. Sonabend stole third and tied the game at 4-4 on a groundout to third by Eagles' designated hitter Adam Dennison. Third baseman Ty Gilmore was hit by a pitch and scored the go-ahead run on a double to left by Nick Rotola, giving Eastern Michigan its first lead of the game at 5-4.
Facing a one-run deficit with one out in the bottom of the ninth, Leggett elected to bring in senior Mike Dunster

Mike Dunster
Sr. Infielder
#10 5-10, 185
Greenwich, CT
View Full Profile to pinch hit for freshman Weston Wilson

Weston Wilson
Fr.
#8 6-3, 195
High Point, NC
View Full Profile and Dunster made the most of his opportunity hitting his first career home run over right field wall and into the Cheap Seats to tie the game at 5-5.
After three walks, freshman Chris Okey

Chris Okey
Fr. Catcher
#25 6-0, 180
Mount Dora, FL
View Full Profile – who became the first freshman in Clemson history to drive in two runs with a hit in the first inning of a season - stepped to the plate with the bases loaded and two out and popped out to shallow right field on a 3-1 count.
Clay Bates

Clay Bates
RS Jr. RH Pitcher
#42 5-11, 180
Rock Hill, SC
View Full Profile and Clate Schmidt

Clate Schmidt
So. RH Pitcher
#32 6-1, 190
Acworth, GA
View Full Profile combined to pitch shutout baseball over the final three-and-a-third innings before Schmidt gave up the final run in the top of the 10th inning when an error and a misplayed ball gave the Eagles the winning run.
Tyler Krieger

Tyler Krieger
So. Infielder
#3 6-2, 170
Johns Creek, GA
View Full Profile registered the first hit of the 2014 baseball season with a double down the left field line in the bottom of the first. Okey started his Clemson career off with a single to center that scored both Krieger and Stephen Duggar, who reached base on a fielder's choice, giving Clemson a 2-0 lead.
Nick Rotola singled to right field to begin the third inning and stole second and scored on a hard hit ground ball by John Rubino to edge the Eagles closer at 2-1.
Tyler Slaton singled through the right side in the Tigers half of the third and advanced to second on a Krieger sacrifice bunt. Duggar, who was one-for four on the day, hit a line drive just past the out-stretched glove of the second baseman to score Slaton, for a 3-1 Clemson lead.
With one out in the bottom of the fifth, Krieger walked, stole second, advanced to third on a throw by Sonabend that sailed into centerfield and scored on a groundout by Boulware to give Clemson a 4-1 lead.
The Tigers host the Eagles in game two of the series tomorrow at 2:30 p.m. at Doug Kingsmore.
If you can't see the PDF below, click here to open it.


Tags:
Chris Okey
,
Clate Schmidt
,
Clay Bates
,
Daniel Gossett
,
Jack Leggett
,
Kevin Pohle
,
Kyle Schnell
,
Mike Dunster
,
Tyler Krieger
,
Tyler Slaton
,
Weston Wilson