---
| | |
| --- | --- |
| Saturday, March 1, 2014, 5:31 PM | |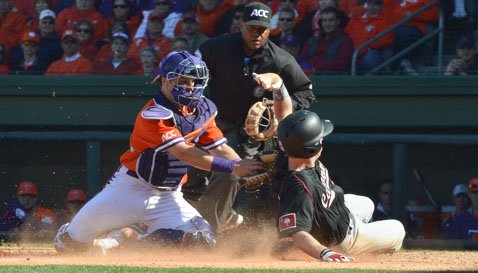 GREENVILLE – Saturday's game between Clemson and South Carolina had an all too familiar feel to it.
Third-ranked South Carolina scored four unearned runs as part of a five-run third inning and No. 11 Clemson couldn't find enough answers at the plate as the Gamecocks took the second game of the rivalry series 10-2 in front of a record crowd at Greenville's Fluor Field Saturday afternoon.
South Carolina has taken each of the first two games of the series – albeit in different fashion - and have now won 22 out of the last 30 contests between the two programs.
Friday night, the Gamecocks overcame a 6-1 deficit and took advantage of several Clemson mistakes in defeating the Tigers. On Saturday, two errors in the fateful third inning were the difference.
The wheels came off for the Clemson defense in the third inning as two errors and a misplayed fly ball led to five Gamecock runs - four unearned.
Clemson head coach Jack Leggett told the media after the game that once again it was a big inning that cost his team a chance at victory.
"I think we had a really good ball game going there for a while at 5-2," Leggett said Saturday. "If we've had trouble in a game so far this season it's because we've allowed a big inning and today we had a five-run inning at the end that wasn't characteristic of us. South Carolina is an explosive team and if you give them an extra opening or if you give them an extra out, it will cost you. It cost us in the third inning and it cost us in the ninth. We just didn't throw have enough strikes."
Elliott Caldwell reached on a fielding error by second baseman Steve Wilkerson

Steve Wilkerson
Sr. 2nd Base
#17 6-1, 195
Roswell, GA
View Full Profile , advanced to third on consecutive singles by Max Schrock and Joey Pankake and scored on an error by right fielder Steven Duggar

Steven Duggar
So. Outfielder
#9 6-1, 185
Moore, SC
View Full Profile . A fly ball by Kyle Martin and singles by Marcus Mooney and Tanner English gave the Gamecocks a 5-0 lead.
Clemson starter Matthew Crownover

Matthew Crownover
So. LH Pitcher
#44 5-11, 205
Ringgold, GA
View Full Profile was chased with two outs in the third inning, after giving up five runs –one earned - six hits, three runs, three walks, and striking out three.
Clemson finally broke through in the fourth inning as Duggar extended his hitting streak to 18 games with a double to left field. Jay Baum

Jay Baum
Jr. Infielder
#13 6-0, 190
Alpharetta, GA
View Full Profile would follow that up with a two-out single through the left side that gave the Tigers their first run of the game.
The Tigers continued to chip away at the Gamecocks' lead when a Chris Okey

Chris Okey
Fr. Catcher
#25 6-0, 180
Mount Dora, FL
View Full Profile groundout scored Tyler Krieger

Tyler Krieger
So. Infielder
#3 6-2, 170
Johns Creek, GA
View Full Profile from third, making it a 5-2 ballgame. Krieger reached base on a one-out in-field single and advanced to third on a long double by Garrett Boulware

Garrett Boulware
Jr. Catcher
#30 6-1, 210
Anderson, SC
View Full Profile .
South Carolina starter Jack Wynkoop worked into the seventh before being pulled in favor of Joel Seddon. Wynkoop faced 28 batters, giving up two runs on nine hits and one walk, while striking out three.
Clemson had its chances in the seventh inning after loading the bases with just one out, but Seddon struck out Duggar and Wilkerson to end the threat - an opportunity that Leggett called "golden".
"We battled our way back in it and our golden opportunity was when we had the bases loaded with one out and we came up dry," Leggett said. "If we scratch something across there, it may have come out a little differently for us. We have to go back to work tomorrow. That's all there is to it. It's a long season."
Erwin was stellar in relief of Crownover, but he tired in ninth and the Gamecocks added five more runs. Erin pitched 5 1/3 innings, giving up two runs, walking two and striking out seven.
The Tigers showed a little fight in the top of the ninth - Wilkerson had a stare down with a South Carolina runner at third base - and both benches came close to emptying. But that kind of fight was too little, too late, and South Carolina fans chanted "Just like football" as the Clemson fans exited the stadium.
The final game of the series will be held at 4 p.m. Sunday at Doug Kingsmore Stadium. South Carolina sends RHP Wil Crowe against RHP Jake Long.
If you can't see the PDF below, click here to open it.