| | |
| --- | --- |
| Clemson derailed in Durham | |
---
| | |
| --- | --- |
| Saturday, May 25, 2013, 1:13 AM | |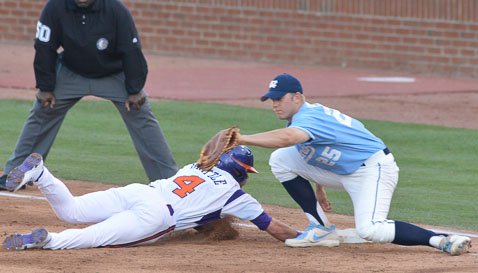 DURHAM, N.C. – A distant train blew its mournful wail just as the 14th inning began at Durham Bulls Athletic Park late Friday night, a not-so-subtle omen of the train wreck that was to occur as Friday turned into Saturday.
No. 14 Clemson (39-19) blew a 7-2 lead in the top of the ninth inning, allowing No. 3 North Carolina to tie the score, wasted several opportunities in extra innings and let the game slip away as the train rumbled off in the distance. UNC scored five runs in the top of the 14th and escaped with a 12-7 win in the ACC Baseball Championship, sending the Tigers to their fourth consecutive loss.
The loss came despite the big lead, and Clemson head coach Jack Leggett was left to wonder what might have been on a night when his team had one of the top programs in the nation on the ropes, with the hopes of hosting a regional possibly leaving with the last train out of the station.
"That's a tough ballgame; that is all there is to it," Leggett said after the game. "We played hard and we were right where we needed to be, but we just couldn't hold onto it. We had some opportunities in extra innings there, and they just did a good job of battling back and getting back in the ballgame."
The Tigers had a chance to score in the bottom of the 13th, placing runners at first and second with two out, and Thomas Brittle lined a shot that appeared headed for the right field line and a game-winning hit, but the UNC first baseman was playing on the line and sno-coned the liner for the third out.
"There were a lot of close plays in that ballgame, and that was one of them," Leggett said. "We just have to put this one behind us and play better tomorrow. This will make us a better team before it's all over. We've seen a lot of things this year, and been in some tough games and close games, and hopefully it will help us down the road."
The Tar Heels scored a first inning run for a 1-0 lead, but Clemson tied the score in the fourth on an RBI single by Tyler Krieger. His single was Clemson's first hit with a runner in scoring position in the ACC Tournament.
In the fifth, Steven Duggar followed a leadoff walk by Thomas Brittle and a single by Maleeke Gibson with a two-out shot over the center fielder's head to give Clemson its first lead at 3-1.
The Tar Heels chased starter Zach Erwin with a run in the sixth, but Patrick Andrews limited the damage and Clemson held a 3-2 lead heading into the bottom of the sixth. Erwin pitched 5 1/3 innings, giving up five hits, two runs and two walks while striking out three.
In the bottom of the inning – after two singles and a walk – Mike Triller stepped into the batter's box with the bases loaded and one out, and laced a two-run single up the middle for a 5-2 lead.
Clemson added two more runs in the bottom of the seventh to take a 7-2 lead, but reliever Matt Campbell was chased with one out and the bases loaded in the ninth inning after giving up an RBI single. Scott Firth entered the game, and Michael Russell flied out to left to close the gap to 7-4 with two outs. Brian Holberton then drilled a three-run bomb over the right field wall with two outs to tie the game at 7-7.
The Tigers had several chances to score in extra innings, including Brittle's liner, but the Tar Heels finally got to a tired Firth in the 14th, scoring five runs to take the win.
Leggett said hosting a regional was not on his mind as his team tries to snap out of what has become a four-game losing streak.
"That's the last thing on my mind right now," Leggett said. "I'm just interested in winning games one at a time right now."
Shane Kennedy went 3-for-5 with two runs and two steals to lead the Tigers, who totaled 11 hits. Gibson, McGibbon, and Triller added two hits apiece.
The game, which last five hours and 16 minutes, tied for the longest in terms of innings in Clemson's ACC Tournament history. The Tigers also played a 14-inning game against Wake Forest in the 1986 ACC Tournament at Durham.
Clemson will face Miami – both teams are 0-2 in tourney play – Saturday afternoon at 3 p.m.
Quotes
Clemson Head Coach Jack Leggett
"It's a tough ballgame, that's all there is to it. We played hard. Zack (Erwin) pitched really well for us early on in the ballgame and Patrick Andrews did a great job. We're right where we need to be and just couldn't hold on to it. We had some opportunities in the extra innings there and they did a good job battling back and doing what they had to do to get themselves back in the ballgame. We had the right guys where we wanted them and just didn't get the job done tonight."
On getting ready for Saturday's game against Miami…
"Got to put it behind us and go play tomorrow. Can't let this leak into tomorrow and hopefully it will make us a better team before it's all over. We've seen a little bit of everything this year; we've been in some tough ballgames, close ballgames, so hopefully it will help us down the road."
Zack Erwin - Starting Pitcher
On his performance tonight…
"My fastball was working good tonight, I located it well. It took me a while to get going but after that I started rolling and moved on; did well."
Mike Triller - Outfielder
On his 2-for-3 performance…
"Coach gave me the opportunity today and I just went out there and gave it my best and got a couple hits. Just trying to do whatever to help the team."
On losing in 14 innings to North Carolina…
"After the final out you feel a little down and your heart sinks a little bit but you got less than 15 hours to strap it up again and get ready to go. Got to have a real short memory with baseball; it's a funny game but we'll come right back out and be ready to go tomorrow."
Steven Duggar - Outfielder
On losing to North Carolina in 14 innings…
"It's frustrating because it's not over until the last out. They were able to build an inning and capitalizing on it. It's just frustrating."
If you can't see the PDF below, click here to open it.