| | |
| --- | --- |
| Tigers knock off 9th-ranked Duke 68-63 | |
---
| | |
| --- | --- |
| Wednesday, January 13, 2016, 9:03 PM | |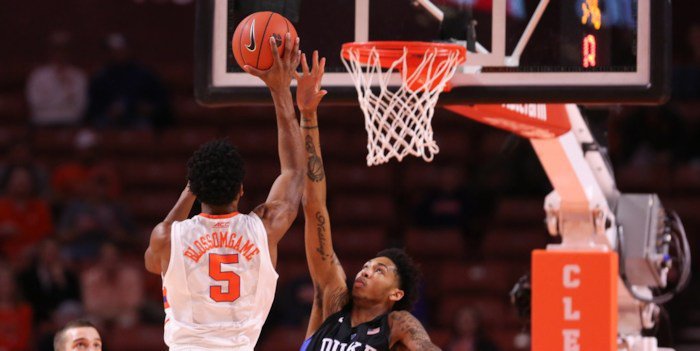 GREENVILLE – Matt Jones missed a 3-pointer with five seconds to play and Avry Holmes hit two free throws after collecting the rebound as Clemson won its fourth consecutive ACC game with a come-from-behind 68-63 victory over 9th-ranked Duke at the Bon Secours Wellness Center Wednesday night.
Duke led by as many as 12 points in the first half, but the Tigers crawled back to within two at the half and made enough shots down the stretch to knock off the Blue Devils. Clemson improves to 11-6 overall and 4-1 in the ACC while Duke falls to 14-3 overall and 3-1 in the ACC.
Clemson was led by Jaron Blossomgame's 17 points, while Donte Grantham chipped in 16 and Landry Nnoko 12. The Tigers were 12-of-13 from the free throw line, including 8-of-8 by Blossomgame. Grayson Allen led Duke with 17 points.
The win was Clemson's second straight win over a top-25 team, a feat that had not been achieved by the program since March 1 and 4, 1989. That season, the Tigers beat No. 9 Duke and No. 25 Georgia Tech in back to back games to conclude the ACC regular season. Clemson beat Louisville 16th-ranked Louisville last Sunday.
"This was another big win for us. Exciting in some ways because we had so many guys make plays for us at the end of the game to get it done," head coach Brad Brownell said. "It wasn't just one player - it was Landry Nnoko getting offensive rebounds and Avry hitting the free throws at the end. Jordan Roper assisting and had a big three. J.B. going 8-for-8 at the line."
Clemson held a 64-63 lead after an Allen layup with 35 seconds to play, but Blossomgame's dunk and Holmes' free throws accounted for the final points.
The Tigers jumped out to a 5-0 lead, but Duke scored the next 10 as the Tigers missed five consecutive shots. That run was part of a 28-11 Blue Devil run that saw Duke take a 28-16 lead over the Tigers with just over seven minutes to play in the half.
Blossomgame said that the Tigers' confidence allowed them to overcome the deficit.
"Right now, we're a very confident team. Our senior leadership and Landry and Jordan, they really hold it together," he said. "We've been down by more than 12 this year and fought back like versus South Carolina. We're experienced and we have older guys. We held it together and we came back. We always believe in each other."
The Tigers responded with a 7-0 run over the next three minutes – punctuated by another 3-pointer from Grantham – cutting the Duke lead to 28-25. Clemson kept up the pressure, and Jaron Blossomgame hit two free throws with 1.6 seconds remaining in the half as Duke led 35-33 at intermission.
"I told our guys at halftime I didn't think we were playing all that well and we were only down two," Brownell said. "I thought we were a little too hyped up and we had some defensive mistakes and our focus wasn't too good. Sometimes that happens when you're energized. Your focus goes by the wayside. I thought we regrouped at halftime and got our wits about us and really played a good second half."
A 3-pointer by Allen gave Duke a 44-39 lead five minutes into the second half, but the Blue Devils went almost four minutes without scoring while Clemson suffered through a 1-for-11 stretch. Duke broke the scoreless drought on a jumper by Derryck Thornton four minutes later for a 46-39 lead, and the Blue Devils made it 48-40 a minute later on a layup by Allen.
Clemson responded with a 7-0 run – including four free throws by Blossomgame – and Grantham brought the crowd to its feet with a runner off the glass. He was fouled and hit the free throw and Duke led by just one at 48-47. It was at that point that Duke got into foul trouble – Chase Jeter fouled out and Marshall Plumlee and Brandon Ingram both picked up their fourth fouls in a matter of a few seconds.
Ninety seconds later Grantham hit a 3-pointer that tied the score at 50-50 with 8:21 to play. Kennard turned the ball over under the basket and the Tigers made the Blue Devils pay with Blossomgame's 3-pointer from the corner for a 53-50 lead with 7:27 to play.
Clemson led 57-55 when a 3-point attempt by Jones rolled in and out. Roper, who had nine assists against one turnover, brought the ball up the court and calmly sank a 3-pointer for a 60-55 lead. On the ensuing possession, Ingram's layup was swatted away by Nnoko, and Roper followed up a Holmes miss with a tip-in that gave the Tigers a 62-55 lead with 3:14 to play.
A Plumlee free throw and Allen 3-pointer brought the Blue Devils right back, however, and Clemson held on to a 62-59 lead as a timeout was called with 2:17 to play. Jones followed that flurry with a layup that made it 62-61 and he was fouled on the play, but missed the free throw as the Tigers were able to cling to a one-point lead with just over a minute remaining.
Nnoko hit a layup on the other end that made it 64-61, but Allen continued a hot second half with a tip-in at the other end that made it 64-63 Tigers with 35 seconds to play. The Blue Devils elected to play defense instead of foul, and Roper made them pay by finding Blossomgame in the lane for a thunderous dunk that put Clemson up 66-63 with 13.3 seconds to play.
Duke head coach Mike Kryzezewski said Clemson's experience was the difference.
"We lost to a really good team," Kryzezewski said. "They've been playing really good basketball. They are old and experienced and well-coached and that showed up. I thought that was the difference tonight."
Nnoko said the Tigers are playing with a lot of confidence.
"We are just believing in each other. We know what we've been through in out of conference play," Nnoko said. "We lost a couple of close games and we knew that we just had to get it going. Guys are more confident and more talkative out there on the court. We just have more confidence."
Clemson hosts Miami at 2 p.m. Saturday in Greenville. Miami is 13-2 overall and ranked eighth in the latest AP basketball poll.
Postgame Notes
* Clemson defeated the sixth-ranked Duke Blue Devils on Wednesday, the program's fourth straight ACC win.
* The Tigers' win was their second straight over a ranked opponent. It is the first time Clemson has beaten top-25 teams in consecutive games since 1989 when the Tigers ended the ACC regular season with wins over Duke and Georgia Tech.
* The win over Duke was Clemson's first against a top-10 ranked team since a victory over the third-ranked Blue Devils on Feb. 4, 2009.
* Wednesday's win was Clemson's sixth over a top-25 team under coach Brad Brownell. Five of the six have come against ACC competition, and two have been versus Duke (2014).
* The win was the program's 11th win over a top-10 Duke team.
* Clemson won its second straight home game over the Blue Devils for the first time since the program won three in a row in Littlejohn Coliseum from 1995-97.
* Clemson has a four-game ACC winning streak in consecutive years. Last season, the Tigers won four in a row from January 24 through February 4.
* Donte Grantham scored 16, his highest output in an ACC game since a game against Syracuse on Jan. 17, 2015.
* Grantham made three three-point goals. The Tigers are now 7-1 when the sophomore forward makes at least three in a game.
* Landry Nnoko scored 12, the third time in his career he has posted double figures against the Blue Devils.
* Nnoko produced his second double-double in Clemson's last three games, and his second career double-double versus Duke.
* Nnoko's 13 rebounds Wednesday were a season high. He had more offensive rebounds (5) than Duke did as a team.
* Nnoko blocked four shots, moving into sole possession of seventh in Clemson's career records with 182.
* Jaron Blossomgame matched a career high with eight made free throws, going perfect in eight attempts.
* Jordan Roper had nine assists against only one turnover in playing all 40 minutes. The senior guard now holds a 73-21 career assist-turnover ratio this season.
Clemson's win marks the 1st time a school lost National Championship in Football and beat a top 10 team in men's hoops in the same week

— ESPN Stats & Info (@ESPNStatsInfo) January 14, 2016
Upset complete! Clemson takes down its 2nd-straight ranked team for the 1st time since 1989. pic.twitter.com/8Q2CQHIZtq

— ESPN College BBall (@ESPNCBB) January 14, 2016