| | |
| --- | --- |
| Second half surge, Djitte's big day lifts Tigers | |
---
| | |
| --- | --- |
| Thursday, November 19, 2015, 9:51 PM | |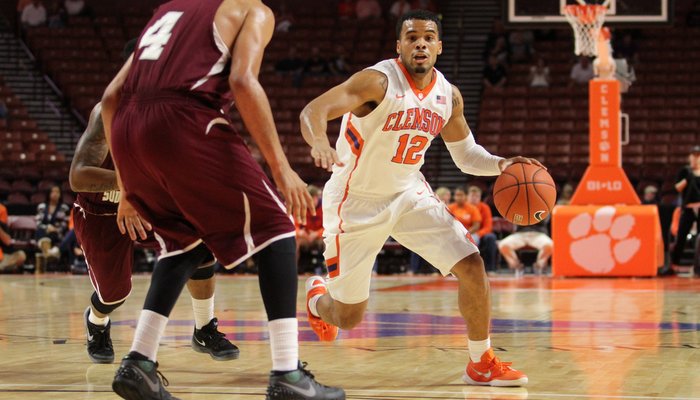 GREENVILLE – Texas Southern was determined to play at a frantic pace beginning with the opening tip, but Clemson proved to be too much for the Tigers from Texas in the second half.
Clemson (3-0) outscored Texas Southern by 22 points in the second half on its way to a 76-56 victory Thursday night at the Bon Secours Wellness Center.
Clemson trailed 33-31 at intermission, but went on 25-2 run over the first 13 minutes of the second half opening a 56-37 lead. The only basket by Texas Southern was a layup by Jose Rodriguez just 28 seconds into the stanza.
Starting center Landry Nnoko was called for his third foul less than three minutes into the second half, allowing Sidy Djitte extended playing time. Djitte achieved the first double-double in his 67 game career with 13 points and 11 rebounds, a career-high in points and tying his career-high in rebounds.
Texas Southern would battle back to make it a 62-46 ballgame with just over five minutes to play on eight points by Malcolm Riley, but stingy defense by Clemson, a thunderous dunk by Jaron Blossomgame and a trey by Avery Holmes put Clemson back up by 19 with just over four minutes remaining.
"I'm really proud of the way our guys came out from halftime and competed. We knew Texas Southern would be ready," Clemson head coach Brad Brownell said. "They had time to get ready and get their legs under them. The two kids – Riley and Thomas are talented players. We couldn't guard them man-to-man for most of the time that we were trying to guard them. They are small guys and it was a matchup problem for us. The speed at which they ran their stuff was tough. We kind of knew that would be a problem. I hoped we would do a little better, but they made seven threes. We probably had a few bad possessions in the first half and took some shots that we didn't need to take, and because of that we found ourselves in a hole. We rallied. We made a consistent effort to get the ball inside in the second half, and we did that well. Guys made plays. Our zone really helped us in the second half and late in the first."
After shooting 44.8 percent from the field in the first half, Texas Southern made just eight shots in the second half. Clemson however shot 60 percent from the field. Blossomgame led Clemson with 22 points while Riley was Texas Southern's leading scorer with 23 points. In addition to Blossomgame and Djitte, Clemson had three other players in double digits – Nnoko (11), Roper (14) and Grantham (11).
Clemson started off the game with a turnover and a Nnoko foul, forcing Brownell to go to Djitte less than a minute into the contest. Texas Southern jumped out to a 10-1 lead before Clemson made its first field goal of the game – a three-pointer by Jordan Roper with 17:41 to play in the opening half.
Clemson went on a 14-7 run over the next six minutes to take an 18-17 lead, its first of the game. For the final nine minutes of the half, it was a back and forth affair, but TSU held a 33-31 lead at intermission after shooting 41 percent from beyond the arc.
In the first half, Blossomgame, Grantham and Roper all had eight points a piece as Clemson shot 37 percent and made just ten field goals.
Brownell said Djitte took his practice progress into the game.
"He's been playing well all fall. I've been saying that he's one of our most improved players," Brownell said. "He's only about three weeks off of meniscus surgery so he's still not 100 percent where we would like to get him. He's always been a good rebounder. He's always been a physical defender. He's just a guy that we continue to work. Mike Wienecki does a good job with our big guys. We continue to work on his back to the basket game. It's a credit to him because it's been a product of two years of labor, and we're starting to see the results."
Clemson returns to action on November 23rd to take on UMass in the MGM Grand Main Event in Las Vegas, Nevada, and Brownell said the Tigers have momentum heading out west.
"It helps. Certainly it helps. We're going to get on a plane and fly out there on Saturday and play on Monday," he said. "We certainly feel better going into it 3-0 rather than 0-3, but by the time we get out there and start playing again some of it will be past you. You have to go play the next game. We're excited to be 3-0. We had a little better fan support tonight and hopefully we can continue to build on that and generate some more interest in our team and our program and get some more folks who want to come out and watch us."