| | |
| --- | --- |
| Clemson rally falls short against South Carolina | |
---
| | |
| --- | --- |
| Friday, December 18, 2015, 9:04 PM | |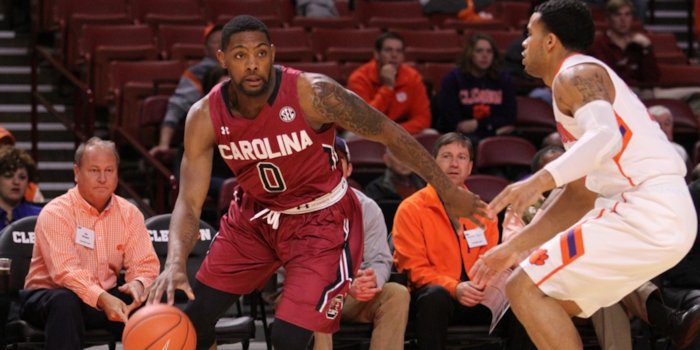 GREENVILLE – Clemson's big rally fell just short against South Carolina.
Clemson trailed by as many as 20 points in the first half but had several chances to cut into a four-point South Carolina lead late, but the No. 25 Gamecocks held on for a 65-59 victory over the Tigers at the Bon Secours Wellness Center Friday night.
South Carolina improved to 10-0 while Clemson fell to 7-4.
Clemson was led by Jaron Blossomgame's 17 points, while Donte Grantham added 15. Jordan Roper added 10, while South Carolina had four players in double figures.
Clemson trailed by just four with a little over a minute to play, but South Carolina hit two foul shots with 25 seconds to play and Clemson couldn't get an open look as the Gamecocks managed to halt the comeback. Clemson had outscored South Carolina 30-18 after trailing by 16 at halftime, but the Tigers scored just one basket over the final four minutes.
"It was a game of runs. Obviously the run in the first half where we played poorly over that six or seven minute stretch was what did us in," head coach Brad Brownell said. "Our guys fought back and we had opportunities to win. We cut it to four with four minutes to play, we got stops and had chances, but we just didn't have anybody to make a play at the end.
"The most disappointing part was getting down 20. Credit them for making shots. That is the one area they have improved the most. My team is too emotional. We are not steady and get unnerved too easily. We get too high or get too low. Our guys are a little too emotional that way. You've seen it where we have lulls and can't get out of it."
Brownell said his team regouped at halftime.
"We finally got our wits about us. At halftime we regrouped and we told our guys to get it to eight minutes with a chance and we did that. But at the end of the day we missed to many shots, and we missed free throws we couldn't miss. We had too many misses."
The Tigers came out of the gate hot and took a 10-7 lead after back-to-back 3-pointers by Grantham and Roper. The Tigers eventually took a 13-9 lead after another 3-pointer by Grantham at the 13:14 mark, but the Gamecocks took over at that point.
The Gamecocks went on a 20-1 run that had South Carolina fans shouting "Go Gamecocks" after back-to-back 3-pointers by Michael Carrera, and when Sindarius Thornwell hit a thunderous dunk over Landry Nnoko to make it 29-14 at the 5:52 mark, he felt enough at home to exchange high-fives with the fans at courtside.
The lead eventually went to 33-14 after a 3-pointer by Duane Notice at the 5:20 mark, but Gabe DeVoe hit a 3-pointer with just under a minute remaining and Roper hit a runner off the glass at the buzzer as Clemson trailed 41-25 at intermission.
Clemson opened up the second half with an 11-4 run over the first three minutes, but South Carolina managed to answer every Clemson run with one of its own and South Carolina led 53-41 with just over 13 minutes to play.
The Tigers then went on a 12-4 run over the next seven minutes, a run fueled by airtight defense and clutch shooting. Grantham hit back-to-back 3-pointers that pulled Clemson to within single digits at 55-47 with 8:11 to play.
A dunk and then a layup by Blossomgame made it 57-51 with 6:51 to play, and a tip-in by Grantham a minute later brought the crowd to its feet as the Tigers pulled to within four at 57-53.
The teams then traded stiff defensive stops and empty offensive possessions, setting up a flurry over the game's last 1:27 with Clemson trailing 59-55. Following a shot clock violation by the Gamecocks, Holmes got the ball over half court but picked up his dribble and had to call timeout, the Tigers' last of the game.
Nnoko was fouled coming out of the timeout but missed the front end of the 1-and-1 and the Gamecocks took over with just over a minute to play.
Clemson plays at Georgia next Tuesday, then travels to North Carolina to open ACC play on December 30th.