TigerNet

is the oldest and largest Clemson Community online with 151,502 members, 56,959 news articles and 28M forum posts.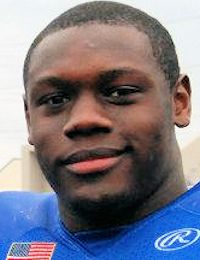 B I O
Nephew of 1982 Heisman Trophy winner and former Georgia All-American Herschel Walker...Richard's first game at Clemson will be against Georgia...rated the #16 prospect in Georgia and the #6 TE in the nation and #191 overall player in the nation by Rivals.com...rated the #2 TE and #195 overall player in the nation by ESPN.com...committed to Clemson on 5/8/13...had 29 receptions for 502 yards and five scores as a senior in 2013...added 22 receptions for 341 yards and three TDs as a junior (2012)...caught 27 passes for 400 yards and five TDs as a sophomore in 2011...so his varsity stats were 78 catches for 1,243 yards and 12 touchdowns...helped his team to State Championship game in 2013...also a three-year lettermen in basketball at Calvary Baptist...his high school coach Mark Stroud also coached former Clemson defensive tackle Nick Eason at Toombs Country High School...Eason went on to play 12 years in the NFL and won a Super Bowl Championship with the Steelers...2014 Army All-America Game nominee...first-team all-state as a senior and junior...also made preseason all-state team for 2013 along with Clemson classmates Demarre Kitt, Adam Choice and Deshaun Watson...son of Bill and Veronica Richard...both were All-Americans in track at University of Georgia...Bill was All-American in hurdles and Veronica in the sprints...recruited by Jeff Scott...had offers from Georgia, Florida State, South Carolina, North Carolina and Tennessee...wore #81 at Calvary Baptist High School where he played for Mark Stroud.

Mickey Plyler on Richard: "Clemson didn't get Herschel Walker in 1980, but it did get his nephew in 2014. Danny Pearman has helped turn Clemson into Tight End U as of late and Chad Morris loves matching up his tight ends on a linebacker in coverage. Richard played at a small high school, but he held up well against better competition in the all-star games and in camps. This is what you look for when you draw up a tight end. Richard has everything you are looking for at tight end."

Reminds Plyler of: Dwayne Allen


COLLEGE CHOICES

| School | Offered (13) | Visit Date |
| --- | --- | --- |
| Clemson | Yes | |
| Auburn | Yes | |
| Florida St | Yes | |
| Georgia | Yes | |
| Georgia Tech | Yes | |
| North Carolina | Yes | |
| North Carolina St | Yes | |
| Oklahoma | Yes | |
| South Carolina | Yes | |
| UCLA | Yes | |
| ULL | Yes | |
| Vanderbilt | Yes | |
| Wisconsin | Yes | |

VIDEO HIGHLIGHTS
Latest Milan Richard News
Click the link below to read more!