TigerNet

is the oldest and largest Clemson Community online with 151,555 members, 57,028 news articles and 28M forum posts.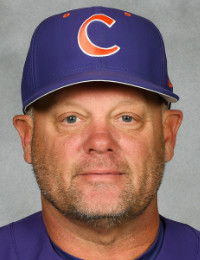 Greg Starbuck
| | |
| --- | --- |
| Position: | Volunteer Assistant |
| Born: | 1963 |
| As a Player: | Played at UNC Asheville (1985,86) as a shortstop for two years after transferring from Montreat (1983,84) |
| College: | Graduated from Winston-Salem State in 1991 |
B I O
Greg Starbuck is in his second year with the Tiger program as volunteer assistant coach in 2017. He previously worked 17 seasons (1999-15) as an assistant coach at Elon. Starbuck coaches the infielders as well as assisting with the hitters and serving as the third-base coach.
Starbuck coached the 2016 team to 44 wins, the ACC championship and a top-eight national seed under first-year head coach Monte Lee. Clemson, who was ranked No. 15 in the final USA Today coaches poll, slugged an ACC-high 75 homers, tied for seventh most in the nation, thanks in large part to Seth Beer, who won the Dick Howser Trophy. Beer, who batted .369 with 18 homers, 70 RBIs and a .535 on-base percentage, became the first freshman to win the award and the first freshman to be named ACC Player-of-the-Year.
With the Phoenix program, 14 of his teams won at least 30 games. He also helped Elon capture four SoCon regular-season titles, two SoCon Tournament championships and make six trips to the NCAA Tournament.
Starbuck coached 45 Phoenix players who received first or second-team all-conference honors. He also coached two Academic All-Americans, two SoCon Freshmen-of-the-Year, two SoCon Pitchers-of-the-Year and three SoCon Players-of-the-Year.
In 2013, Elon won its second SoCon Tournament title and advanced to NCAA Regional play, where it reached the regional finals.
In 2009, the Phoenix took home the regular-season conference title for the second straight year and third time in four years. Elon had a 22-3 league record and was 41-18 overall. The Phoenix earned a berth as a No. 2 seed in the Atlanta (Ga.) Regional and had the program's first top-25 finish at No. 24 in the Baseball America final ranking. That team also set program records for runs (604), hits (711), doubles (137), home runs (138) and RBIs (558).
In 2006, Starbuck was a part of Elon's first-ever SoCon regular-season title with a 21-6 league mark. The team also collected its second regional berth in five seasons, playing in the Clemson (S.C.) Regional as the No. 2 seed.
During Elon's historic 100th season of baseball in 2002, Starbuck helped the squad compile a 34-23 record. In just its third official season of Division I baseball, the Phoenix received an at-large bid to the NCAA Tournament and played in the Clemson Regional.
Prior to his time at Elon, Starbuck was the head coach at Carver (N.C.) High School from 1991-98. He also served as an assistant coach for the Kernersville (N.C.) Legion team from 1986-88, was co-head coach from 1989-97 and served as head coach in 1998,99.
Starbuck played at UNC Asheville as a shortstop for two years (1985,86) after transferring from Montreat, where he played two seasons (1983,84). He played all four seasons of college ball under head coach Kenny Bagwell, who played (1970,72) and was an assistant coach (1975,77) at Clemson.
The native of Kernersville, N.C., received his bachelor of science degree in physical education from Winston-Salem State in 1991. Starbuck and his wife, April, have three sons, McGwire, Banks and Jackson, and a daughter, Brettlyn. Starbuck was born June 11, 1964 in Winston-Salem, N.C.
Starbuck's Coaching Record

Year
School, Position(s)
W-L
NCAA
1999
Elon, AC
20-35-1
2000
Elon, AC
33-25
2001
Elon, AC
30-27
2002
Elon, AC
34-23
Regional
2003
Elon, AC
34-23-2
2004
Elon, AC
31-28
2005
Elon, AHC,RC
32-25
2006
Elon, AHC,RC
45-18
Regional
2007
Elon, AHC,RC
32-29
2008
Elon, AHC,RC
44-18
Regional
2009
Elon, AHC,RC
41-18
Regional
2010
Elon, AHC,RC
38-24
Regional
2011
Elon, AHC,RC
36-21
2012
Elon, AHC,RC
33-26
2013
Elon, AHC,RC
34-30
Regional
2014
Elon, AHC,RC
27-26
2015
Elon, AHC,RC
25-29
2016
Clemson, VA
44-20
Regional
| | |
| --- | --- |
| Seasons as a full-time NCAA coach: | 18 |
| Winning seasons: | 16 |
| NCAA Tournament appearances: | 7 |
| Record as an assistant coach: | 613-445-3 (.579) |
| Record as a head coach: | 0-0 |
*Courtesy Clemson Media Guide
| | |
| --- | --- |
| | VIDEO HIGHLIGHTS |
Latest Greg Starbuck News
Click the link below to read more!