TigerNet

is the oldest and largest Clemson Community online with 151,494 members, 56,948 news articles and 28M forum posts.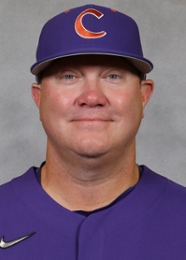 Andrew See
Assistant Coach
| | |
| --- | --- |
| Position: | Assistant Coach |
| Born: | 1978 |
| As a Player: | Ohio (1999-01) |
| College: | Graduated from Ohio in 2002 |
B I O
Andrew See is in his second year with the Tiger program as pitching coach in 2017. See previously worked three seasons (2013-15) as pitching coach at Duke.
See coached the 2016 team, who was ranked No. 15 in the final USA Today coaches poll, to 44 wins, the ACC championship and a top-eight national seed under first-year head coach Monte Lee. A major key was Clemson's school-record 14 one-run wins against only six one-run losses and 5-1 record in extra-inning games. First-team All-American Pat Krall led the pitching staff, as he became the first Tiger in history to lead the team outright in wins (10) and saves (5) in a season. He was 10-2 with an ACC-best 1.67 ERA in 80.2 innings pitched over 29 appearances (three starts). For his efforts, he was named one of the top-11 assistant coaches in the nation after the season by D1Baseball. He was also rated tied for the 29th-best recruiter in the nation by D1Baseball prior to the 2017 season.
In 2014 and 2015, See led the Blue Devils to their best-two ERA marks since the advent of the aluminum bat. Despite his top-two starters suffering injuries in 2015, the staff had a 3.29 ERA, while his 2014 staff had a 3.14 ERA, the program's best mark since 1971 and its first sub-4.00 ERA since 1993.
The 2015 Blue Devil staff featured Michael Matuella, one of the best righthanders in the nation who was drafted in the third round. Duke had 441 strikeouts, third most in school history. In 2014, Duke totaled a school-record 501 strikeouts thanks in large part to Matuella and Drew Van Orden, who was drafted in the fifth round.
From 2007-12, See served as pitching coach and recruiting coordinator at his alma mater, Ohio. During his final three seasons with the Bobcat program, he served as associate head coach. His 2008 and 2010 recruiting classes earned honorable mention honors by Collegiate Baseball.
In 2005 and 2006, See was an assistant coach and recruiting coordinator at Appalachian State under Pollard after serving one season as an assistant coach at UNC Greensboro in 2004, when he coached future major leaguer Danny Valencia. In the summer of 2005, he also was the head coach of the Southern Ohio Copperheads.
See started his coaching career as a student assistant coach (2002) and graduate assistant coach (2003) at Ohio. The 2003 Bobcat squad had a 35-23 record. See coached future major leaguers Adam Fox, Marc Krauss and Adam Russell during his two stints at Ohio.
See played three seasons at Ohio from 1999-01 after transferring from Georgia following his freshman campaign in 1998. In addition to playing center field and first base at Ohio, he was a starting pitcher in the weekend rotation for two years and served as the Bobcat closer as a senior.
See had .350 career batting average with 33 home runs and 116 RBIs, while posting a 13-12 record with 125 strikeouts on the mound. He earned All-Mideast Region and First-Team All-MAC honors as a senior after leading the Bobcats with 17 homers, tied for third most in Ohio history, and a then-school-record 70 RBIs. He finished his career second in Bobcast history with a .647 career slugging percentage and was seventh in career home runs.
A native of Adrian, Mich., See played professionally for the Chillicothe Paints in the Frontier (Independent) League for three years (2001-03). During his final season, he led the team with eight saves while also serving as the team's bullpen coach.
See, married to wife, Shauna, graduated from Ohio in 2002 with a bachelor's degree in sport industry and earned a master's degree in coaching education from Ohio in 2003. See was born Jan. 20, 1979 in Cumberland, Md.
See's Head Coaching Record

Year
School
W-L
NCAA
2002
Ohio, SA
26-25
2003
Ohio, GA
35-23
2004
UNC Greensboro, AC
33-21-1
2005
Appalachian State, AC,RC
10-42
2006
Appalachian State, AC,RC
24-31-1
2007
Ohio, AC,RC
23-31
2008
Ohio, AC,RC
29-30
2009
Ohio, AC,RC
29-24
2010
Ohio, AHC,RC

20-35

2011
Ohio, AHC,RC

27-27

2012
Ohio, AHC,RC
28-29
2013
Duke, AC
26-29
2014
Duke, AC
33-25
2015
Duke, AC
31-22
2016
Clemson, AC
44-20
Regional
| | |
| --- | --- |
| Seasons as a full-time NCAA coach: | 13 |
| Winning seasons: | 5 |
| NCAA Tournament appearances: | 1 |
| Record as an assistant coach: | 357-366-2 (.494) |
| Record as a head coach: | 0-0 |
*Courtesy Clemson Media Guide
| | |
| --- | --- |
| | VIDEO HIGHLIGHTS |
Latest Andrew See News